According to Salesforce, the process of implementing a digital transformation strategy includes "using digital technologies to create new — or modify existing — business processes, culture, and customer experiences to meet changing business and market requirements."
To implement a digital transformation strategy, businesses should take into consideration customer and agent challenges, the types of solutions that work best for each group and how they can integrate together to improve the experience of all users. Implementing digital technologies to improve the customer experience is a core focus of Ozmo and aligns with overarching findings from a recent conference that our team of experts was able to attend.
Mobile World Congress Barcelona is one of the largest events in the telecom industry, bringing together thousands of executives and specialists with mobile operators, broadband providers, device insurance companies, hardware manufacturers and other technology businesses from over 200+ countries and territories.
Over 61,000 attendees gathered in person in Barcelona, Spain, following COVID-19 safety protocols, to network at and glean insights from this influential, connectivity conference. The conference also had virtual opportunities available for those who couldn't meet face to face at the event venue.
Some major themes at Mobile World Congress Barcelona included the growth of smart and connected devices, expansion of 5G connectivity and the impact of mobile innovation. The common link among these topics is the importance of developing a digital transformation strategy. Digital transformation is not a new priority for telecom providers, but rather one that has resurged its significance in recent years. As Mats Granryd, Director General of GSMA highlighted in an opening keynote session, "We are seeing digitization in every industry and country. We're going to make it happen."
Want to learn more about how to implement a successful digital transformation strategy?
Most of the conference sessions highlighted what we all know and are feeling at this point in 2022: how the pandemic has radically changed how customers buy and how businesses operate. In order for telecom companies to keep up with these changing expectations, they must recognize the importance of implementing a digital transformation strategy and invest in it for the months and years to come.
A digital transformation strategy for the customer
As François Charcosset, Commercial Operation Director at Orange mentioned in the conference panel session Reimagining Retail at the Edge, "The digital share of sales has been growing massively and even more due to the pandemic. The pandemic caused it to grow 4x." Telco retail stores have been on an endless decline. Charcosset notes how Orange dropped 43% of its stores in a period of 10 years because of the purchasing success it was seeing with online sales.
Customer experience challenges
Customers now are expecting to be able to purchase smartphones, connected devices, routers and other devices via digital channels. The industry was already moving towards the direction of online retail sales and the pandemic only accelerated this shift. This serves as a challenge for companies that might have once set their business apart through the sharing of excellent in-person expertise and customer service. Once everything is digitized, how do you keep relevant experiences for customers?
The one thing that has not changed in the past few years is the importance of fast, accurate technology answers. No matter how they are receiving devices, whether that's in a physical store or through a digital channel, customers will still have questions about the features and benefits of what they are buying, the steps to activate their device and even how to best use their technology after the initial purchase and onboarding process is complete.
The telecommunications market is extremely saturated, with a majority of providers having similar product offerings. What can be, however, a differentiator for telcos today is the customer experience. The panelists were all in agreement that businesses need to exceed customers' expectations in this primarily digital and hybrid world to manage shifting buying trends, which can be achieved via experimentation, personalization and data analysis. 
"How can email and SMS work together for best-in-class experiences? What are you including in those assets, videos and high-quality media?" Matt McRoberts, SVP Global Alliances at Braze questioned. "Candid, personalized experiences are key. Not being afraid to experiment and optimize to identify what is most compelling to drive the best customer experiences."
Customers process and retain information in different ways, which can range from visual, reading, and auditory preferences. As companies integrate more resources into their tech support, like virtual devices and other high-quality media that McRoberts was describing, they should ensure that these channels are seamless and constantly updated as technology advances.
Finding the right digital transformation strategy for your customers
As we've seen, the physical channel isn't the only channel, but rather one of many. The need for a digital transformation strategy that covers every type of channel has never been so apparent. The panelists highlighted how companies have to gain the trust of their customers and be on their terms.
This means ensuring that an omnichannel experience, which is used to describe "all of the physical and digital channels within a single platform, interface or experience" is cohesive to drive best-in-class engagement. Ozmo encourages this level of cohesiveness by guaranteeing that our tech support answers are accurate and consistent on every channel that a customer might be interfacing with, whether that's on a website, app, chatbot, video or more. A customer should receive the same high-caliber answer even if they were to submit an inquiry into a contact center.
A digital transformation strategy for the agent
When developing a digital transformation strategy, companies should consider their contact center agents as being paramount to the success of their organizations.
During the conference session AI Knowledge Transforms Telco Customer Service, Head of Customer Success at eGain Noel Harris, detailed how the COVID-19 pandemic drove the importance for companies to develop a digital transformation strategy. "Voice is still king of digital transformation when push comes to shove. When COVID hit, there was a fundamental shift in thinking for a route to reduce the number of contacts coming in and make those contacts as quick and effortless as possible."
Agent experience challenges
To make customer inquiries quick and effortless, agents need to have the right contact center solutions in place to best answer any support inquiries that are coming in. Before the transition to remote support, when agents didn't know an answer to a question or needed assistance navigating a tool, they used to be able to raise their hand in the contact center, ask their neighbor for help or find the customer's physical device somewhere in the workspace.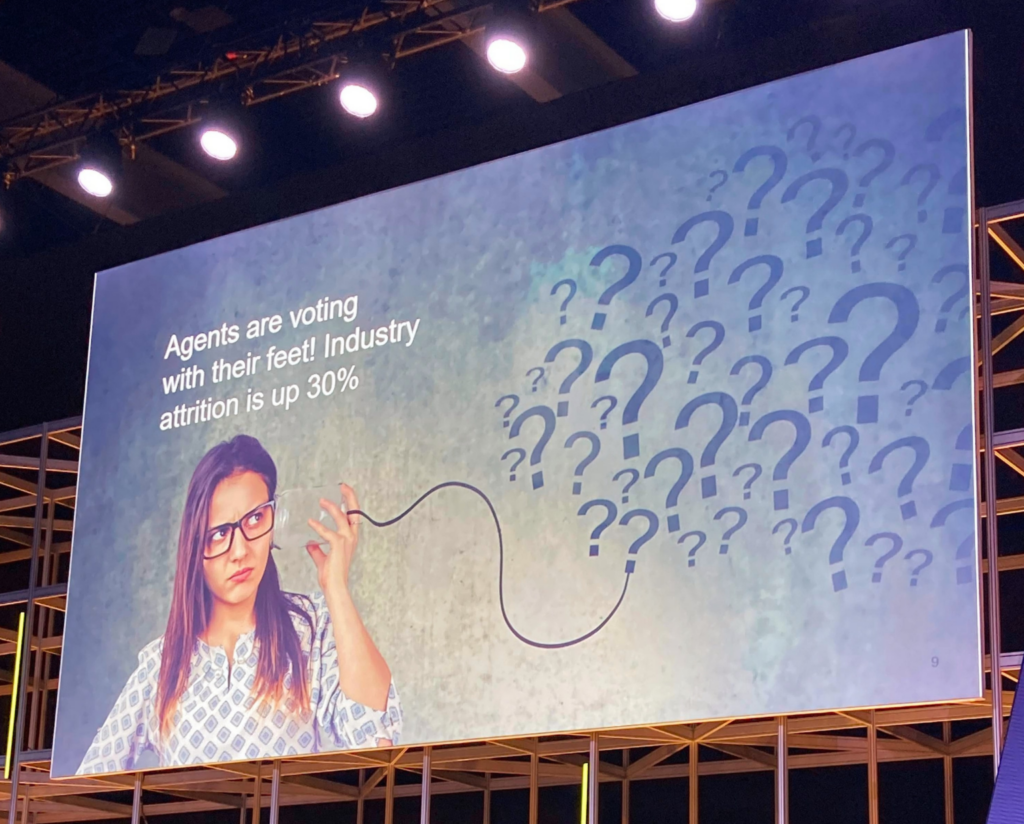 As agents took the time to track down the right device or answer, they were often leaving the customer on hold, and every minute that passed could significantly reduce net promoter scores and first call resolution rates. Now that almost all agents are working from home and they can no longer receive in-person support, companies need to ensure that they have robust solutions for their remote agents to access at any time.
According to Gartner, over 84% of contact center agents hate their desktop tools. It is challenging for recently-hired agents to learn all of the different processes that are established at their organization. And when that agent finally enters a live environment after 2-6 months, they are under extreme pressure to hit their KPIs with disparate systems. It's no wonder why Harris highlighted that contact center agents retain roughly 10% of their training materials and have high attrition rates.
Finding the right digital transformation strategy for your agents
Agents are constantly trying to maintain a level of excellent service for their customers with inadequate solutions in place. In order for a company to develop an effective digital transformation strategy, it has to start focusing on the agent experience. "[We need to make] their lives as effortless as possible…tools need to be proactive, guided, and supportive," said Harris.
Digital tools should help to reduce the amount of time it would otherwise take an agent to look for information. The information should also automatically surface as they need it. The speakers highlighted a case study where BT implemented a consolidated knowledge management platform that was able to increase NPS by 30 points, improve FCR by 35% and increase the competence of new associates twofold.
[We need to make] agents' lives as effortless as possible…tools need to be proactive, guided and supportive.

Head of Customer Success at eGain Noel Harris.
Similarly, Ozmo's unique contact center solution, Ozmo for Agents, consolidates thousands of answers and virtual devices and apps into one platform. This helps solve complex tech support issues, providing the necessary singular solution for agents to address customer needs quickly and confidently, even as they are working from home. 
Keeping up in the deepest technological revolution in history
According to a statistic highlighted in the keynote session during Mobile World Congress Barcelona, there is projected to be 1 billion 5G connections by the end of this year. More and more people are becoming connected online, whether that's through mobile or the rapid expansion of broadband access.
Chairman & CEO of Telefonica Jose Maria Alvarez-Pallete claimed that the new era that we are in is "the deepest technological revolution in history." Because of this, there has been an acceleration of new technologies. A major theme throughout the conference was to not push technology for technology's sake, but rather push technology that improves the customer experience and creates operational efficiencies.
Although it is important to not introduce unnecessary tools, over the past three years, we have all become more connected and reliant on digital solutions. Both customer and contact agents expect robust and personalized support to increase their loyalty and satisfaction. If companies don't keep these two components in mind when considering the progress of their digital transformation strategy, they could easily lose what once were loyal customers and employees during these unprecedented times, costing their business precious money and talent. If you're looking to create a digital transformation strategy or improve your existing one within your tech support, you can get started here.