Virtual device and app emulators explained
In the world of tech support, terms like "virtual device", "virtual app", "device emulator", "app emulator" and more are often used interchangeably. In this post, we'll dive deep into what virtual devices and apps are, how they are used in the contact center and why they're important - even critical - tools for support agents solving complex technical problems.
Table of contents
---
What is a virtual device?
Also known as a device emulator, a virtual device is a digital, freeform representation of a physical device that functions just like if a person were to hold the physical device in hand. A support agent can interact freely with the virtual device, navigating screen-by-screen through tens of thousands of pathways, to provide accurate and efficient assisted support.
Nearly any type of device with connectivity can be emulated with a virtual device. This includes smartphones, tablets, smart watches, routers, modems, mobile hotspots, voice-over-IP desktop phones, streaming devices, cable boxes, smart thermostats, smart speakers and the entire connected home.
Virtual devices emulate the screens, features and functions of a physical device. Because of this, they must be able to provide the same functionality - if not better functionality - than a physical device would.
Having a visual guide helps tremendously so we are able to see what the customer is seeing.
-Direct agent feedback piloting Ozmo virtual device and apps
It helped me be able to navigate someone who didn't know how to use their device so much easier!
-Direct agent feedback piloting Ozmo virtual device and apps
An ideal virtual device software allows users to interact with the device with advanced gestures like swipe, press and hold, long press and more to emulate the identical behavior of the physical device. It also gives a user the ability to emulate events like incoming calls, inserting a SIM card and even the initial out-of-the-box setup process.
Additionally, an essential component of virtual devices is the ability to emulate specific software versions, also known as lifecycle support. Lifecycle support ensures that support agents can access virtual devices across all major software updates that a device receives across its lifecycle. This is vital for agents to provide accurate and tailored support that stays ahead of the rapid pace of change in technology.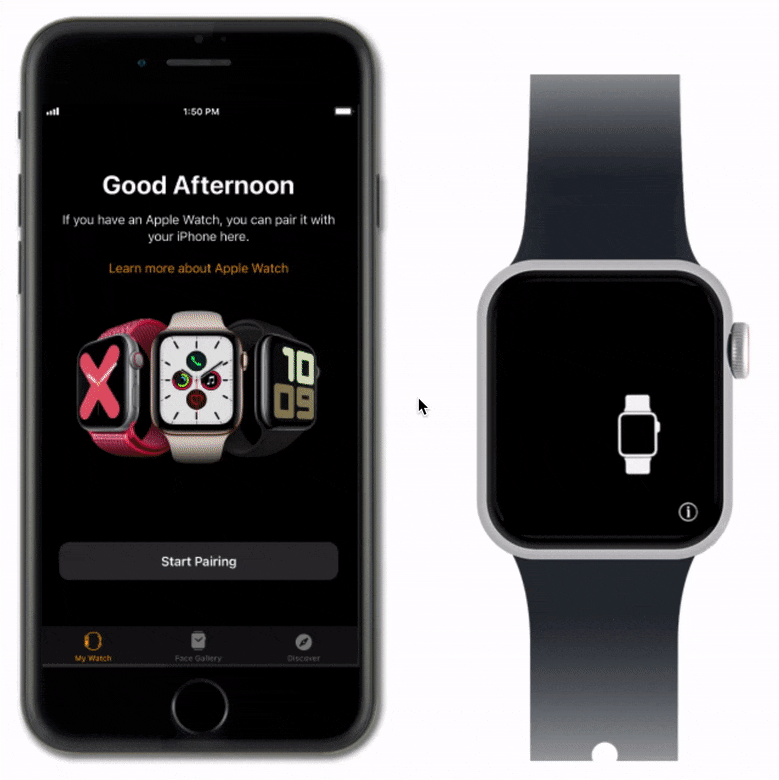 ---
What is a virtual app?
Similarly, a virtual app or app emulator is a digital, freeform representation of a mobile or web application that functions just like if one were to interact with a live version of that application. Virtual apps can emulate the screens, features and functions of any application. A support agent can interact freely with the virtual app, navigating screen-by-screen and guiding the customer through hundreds or thousands of pathways.
A virtual application may emulate a first-party application like a mobile operator or broadband provider's unique "My Account" app or common third-party applications like Facebook, Gmail, WhatsApp, YouTube and more. Regardless, virtual apps allow support agents to click through and freely explore all of the settings and screens of an application in order to confidently answer customer questions and also educate themselves in between support interactions.
Similar to virtual devices, it is also necessary for virtual apps to support all major app versions. With new version releases come new functionalities, changes to menu structures and critical user experience updates. Lifecycle support for virtual apps means that an agent can support a customer across all versions of the app and provide the most tailored and accurate answers for that unique customer.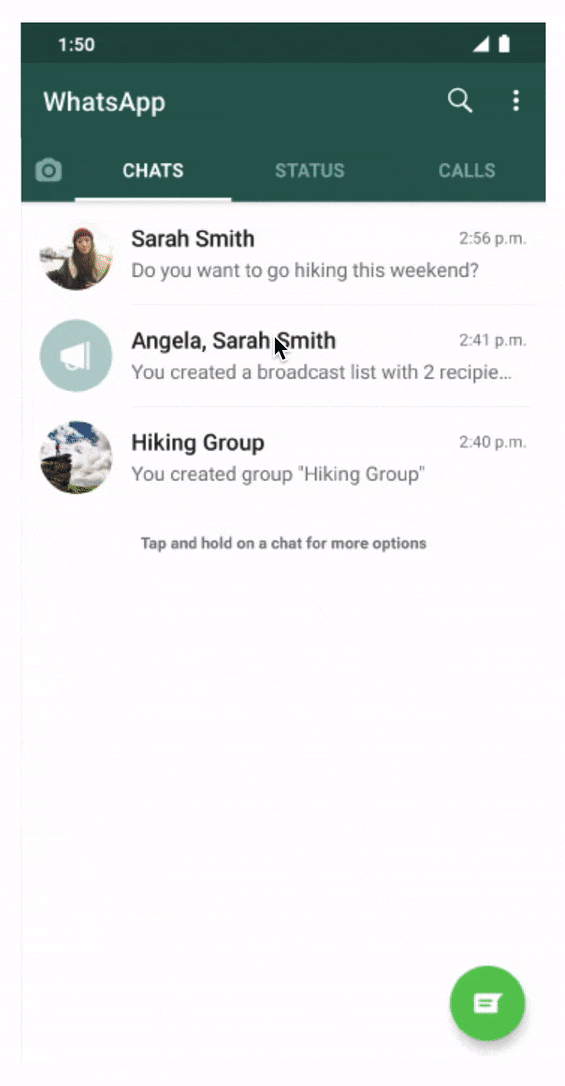 ---
What are virtual apps and devices NOT?
A common misconception surrounding virtual devices and apps is that they are a live view into an individual's device achieved through remote login. Emulators are not surfaced through remotely logging into a device or app.
True emulators eliminate the privacy concerns associated with remote login, removing the need for a support agent to connect to a customer's unique device. With our devices storing so much of our personal information and private data, many customers are hesitant or unwilling to permit remote access to their devices. Virtual devices and apps give agents the ability to see exactly what the customer is seeing on their device or app with no risk to the end customer.
In addition, emulators significantly reduce call handle time when compared to remote login software, eliminating the complex and tedious setup and login process associated with remotely accessing a device. By having a robust library of devices and apps supported on every software and release version, agents can bypass the need for remote access and get right to supporting customers through any technical issue or question.
---
How are virtual devices and apps used by agents?
On call or chat support
The primary application for emulators is on call or chat support inquiries. Agents use virtual devices and apps to guide customers through tens of thousands of potential pathways. From the most basic to the truly complex technical questions, these digital representations of devices and apps arm agents with the tools they need to resolve any issue.
This tool allows me to feel like I have the device in my hands which is really nice.

Direct agent feedback piloting Ozmo virtual device and apps
Emulators let agents see precisely what the customer is seeing on their respective device or app, and boosts agent confidence in successfully guiding a customer to a resolution. Virtual devices and apps dramatically improve agent performance on call and over chat by ensuring an agent is never left at a dead end or boxed in by inflexible, outdated predetermined workflows.
In remote work
At-home or remote agents can leverage virtual devices and apps to provide consistent and accurate support no matter where they're located. Libraries of emulators enable agents to provide the same level of expert support without the need to be physically located within the contact center. With recent shifts to a more distributed workforce, this technology is more critical than ever. Virtual devices and apps can be accessed by hundreds and thousands of agents around the globe at any time - something that was previously impossible with physical handsets maintained in call centers. Emulators are a foundational element of enabling the broader shift to remote work for tech support agents, providing them with vital reference tools to confidently guide customers while on-call or in-chat.
For education and training
In addition to supporting customers directly, virtual devices and apps are incredibly useful tools in agent education and training. Whether an agent is early in their tenure or has years of experience, it can be nearly impossible to keep up with the pace of change in technology. New hardware, software, capabilities and interactions are constantly being added.
Emulators give agents an advantage by offering hands-on training material to familiarize them with new technologies before customers begin asking questions. Whether it's the latest device launch or an app core to the business, having virtual devices and apps at their fingertips allows agents to familiarize themselves with the screens, features and functionality of the latest technology to be ready to support customers with confidence.
To drive digital adoption
Lastly, emulators can be used to help drive digital adoption. This is particularly true with virtual apps. Apps serve as the center of many critical services and technology ecosystems, providing avenues to complete transactions, control one's devices and manage one's subscriptions and payments.
Agents can use virtual apps when supporting customers to promote the download and adoption of these vital applications. They can raise awareness amongst customers of how easy it is to accomplish important tasks like paying bills, signing up for new services or adding family members to an account by having in-depth screen references to guide the conversation.
By educating customers on what's possible in the apps that live right on their devices, agents can leverage virtual app technology to drive digital adoption and empower customers to turn to lower cost, self-serve channels.
---
What are the benefits of providing agents with virtual devices and apps for assisted support?
1. Higher agent confidence
This tool is perfect. It gives the customer more confidence that we know exactly what we are doing."

Direct agent feedback piloting Ozmo virtual device and apps
Virtual devices and apps increase agent confidence and a confident agent is a better-performing agent. Agent confidence is directly tied to performance. When agents can confidently guide a customer to a successful resolution, that agent receives better satisfaction ratings, decreased handle times and improved first call resolution rates.
2. Improved first call resolution rate
It is such a great help. This is a tool that I would use every day. This will make troubleshooting a lot easier on my end."

Direct agent feedback piloting Ozmo virtual device and apps
First call resolution (FCR) rate measures the rate at which agents are able to completely resolve an issue that generates no future callbacks. This is a critical metric to track agent performance. With emulators, agents see significant improvement in their FCR rate because they have the in-depth, freeform tools they need to accurately address any type of tech support question across any version of a customer's technology. With a robust library of virtual devices and apps, agents don't need to seek out unvalidated answers on public search engines or forums, tap the shoulder of the agent next to them or even rely on competitors' websites to successfully resolve customer inquiries.
3. Increased customer satisfaction and NPS
It was just like operating the device as if it were in your hand. You can walk the customer through each screen exactly as they would see it."

Direct agent feedback piloting Ozmo virtual device and apps
Virtual devices and apps increase customer satisfaction and net promoter score (NPS) ratings in tech support, especially on the most complex of questions. Customers want fast support with shorter hold times and less transfers, answers tailored to their unique needs and to not have to call back a second or third time for the same problem. Emulators give agents confidence and improve their first call resolution rate as described above. This leads to higher customer satisfaction ratings, more positive interactions and improved brand loyalty. In fact, when emulators are used on the most complex inquiries, NPS is higher by 7% than if emulators are not used. And agents that use virtual devices and apps the most frequently score 11% higher on NPS ratings than those that use the technology least frequently.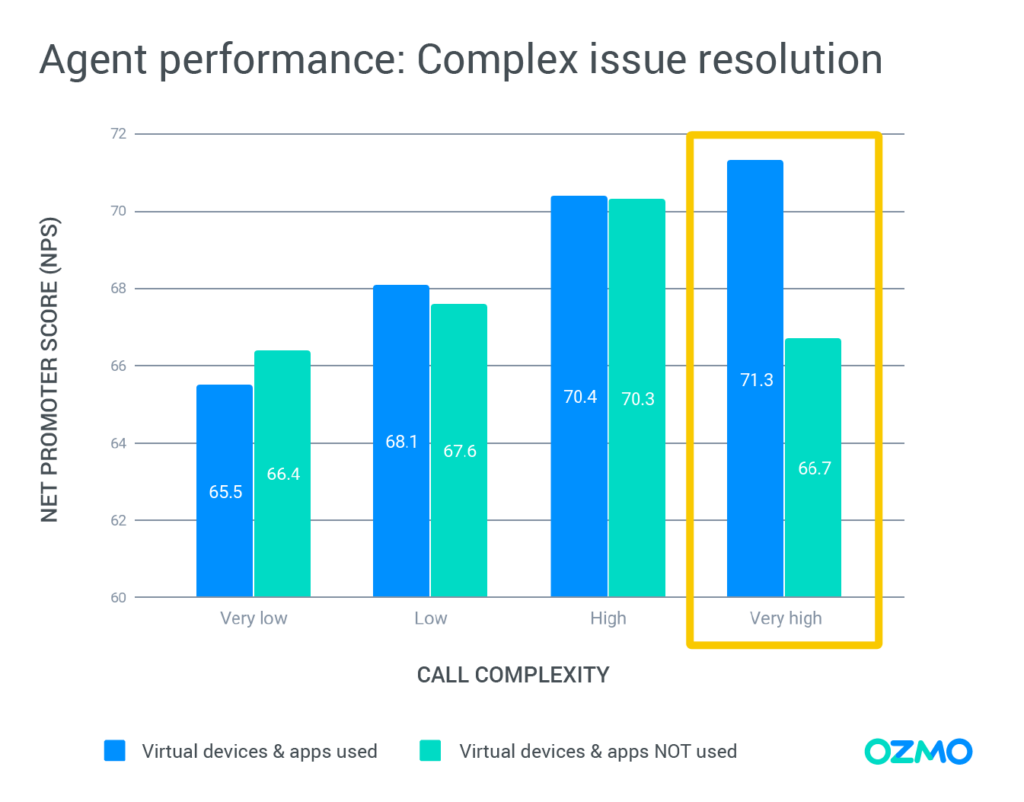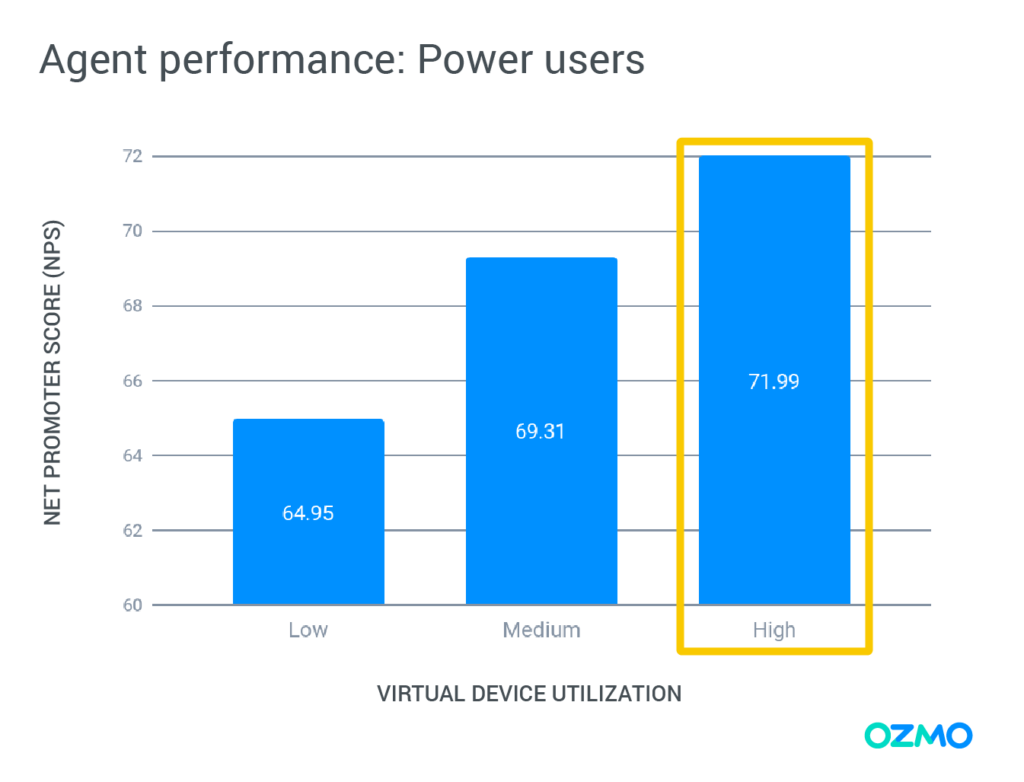 4. Significant cost savings
This prevents me from having to leave my seat to locate or charge a device to assist the customer."

Direct agent feedback piloting Ozmo virtual device and apps
Scalable libraries of virtual devices and apps eliminate the need for physical device libraries to be purchased and maintained. This alone saves millions of dollars per year for large enterprises that historically maintained physical devices in contact centers. When agents are provided with libraries of hundreds of virtual devices and apps, they don't have to put a customer on hold to leave their seat to attempt to locate a specific device, hope that it's charged, guess which software version it might be on or find that it might be in use by a coworker when they need it. And with advanced functionality like interactive gestures, the ability to emulate conditional events like initial setup and lifecycle support that allows the agent to switch software versions with one click, virtual devices and apps entirely eliminate the need for physical hardware in the contact center.
In addition, with better tools agents can provide more efficient and effective support. With increased agent confidence, first call resolution rate, customer satisfaction and digital adoption, arming agents with emulators is a no-brainer business decision from a cost savings perspective.
5. Personalized, accurate support
The sheer number of devices and options for exploring phone menus far exceeds that of any other online tool I've used."

Direct agent feedback piloting Ozmo virtual device and apps
With freeform, in-depth access to thousands of pathways and full lifecycle support, virtual devices and apps empower agents to provide the most tailored support for an individual customer's unique configuration of services. Technology is ever-changing and agents require support tools they can rely on to always be up-to-date and accurate. An ideal emulator offers the flexibility to switch between software and app versions while seamlessly guiding customers to resolution.
6. Faster agent onboarding
Ozmo is a fabulous tool that helps me help our customers. Since having access to it, I feel like I can provide a higher level of care to our customers because I have a tool I am confident in using and learning from."

Direct agent feedback piloting Ozmo virtual device and apps
Finally, virtual devices and apps significantly speed up agent onboarding. With these powerful tools, agents can begin providing value much earlier in their tenure. Emulators reduce the learning curve and training time for new agents. Agents that use virtual devices and apps experience 6% improvements in NPS ratings over agents who don't use virtual devices and apps within their first six months of tenure. These dynamic and robust tools help new agents hit the ground running, allowing them to serve customers quickly and effectively and achieve high NPS scores immediately.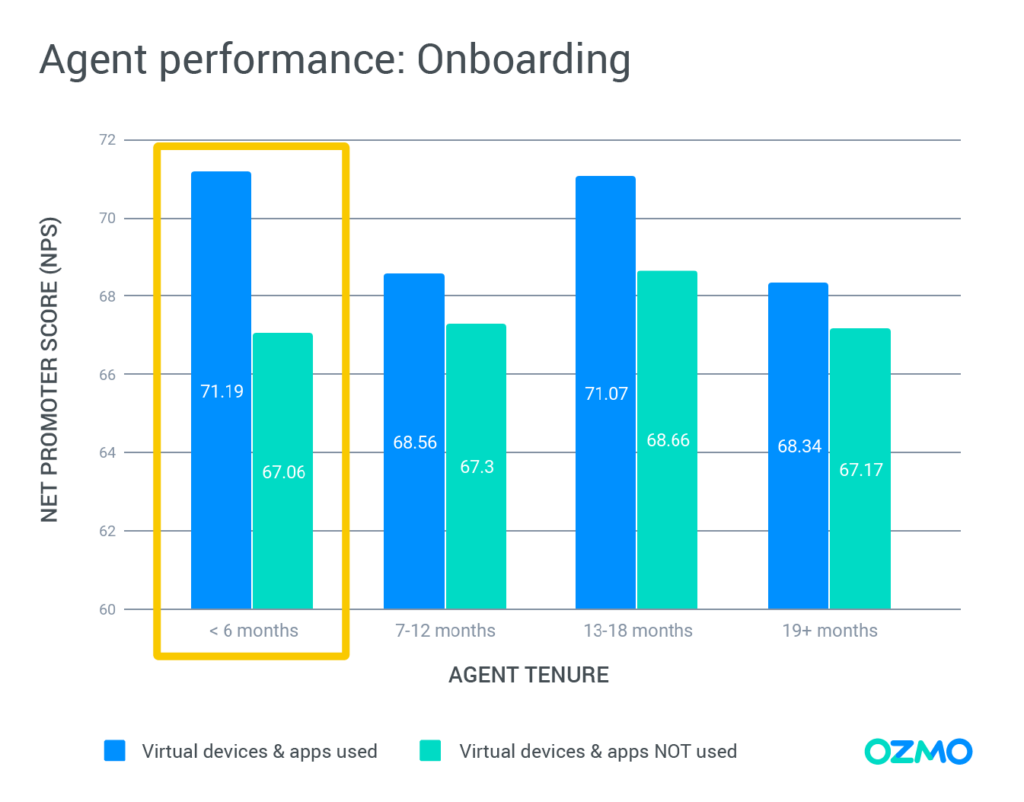 ---
How do I know if virtual devices and apps are right for my business?
Businesses of all sizes can benefit from virtual device and app technology in the contact center. From small, regional mobile operators with ten agents to some of the world's largest enterprises with vast agent workforces across the globe, solutions like Ozmo can scale to support your contact center.
Read more about how businesses across industries use virtual devices and apps to improve their customer experience, cut costs and decrease churn:
---
How can I learn more?
If you're interested in learning more about virtual device and app emulators for your business, schedule a free, no-pressure live demo with one of our tech experts. We will demonstrate virtual device and app technology in action for you and can recommend tailored tech support solutions for your unique needs.