Apple's latest iOS update is here: iOS 16. The new update brings forth an array of new improvements on the last update. Staying connected and communicating has never been easier. The electrifying new update has promising new features such as unique personalization, deeper intelligence and brand new ways to seamlessly communicate and share. With iOS 16 on Ozmo's omnichannel support platform, contact center agents are equipped with all they need to smoothly guide your customers through this new experience offered by Apple.
Want to learn more about how to advance your customer service?
Messaging and communication reimagined
The world of messaging and effective communication has crossed a new and thrilling frontier with the latest update. The iOS 16 update includes editing messages, deleting messages and marking a message as unread. During the first 15 minutes of sending a text, users are able to make up to five edits to a given message, though it is important to note that recipients will be aware of edits made to the messages. Users have up to two minutes to delete a message after sending it. If users find themselves with not enough time to respond to a message, they are now able to mark the message as unread in the moment and respond at a later time.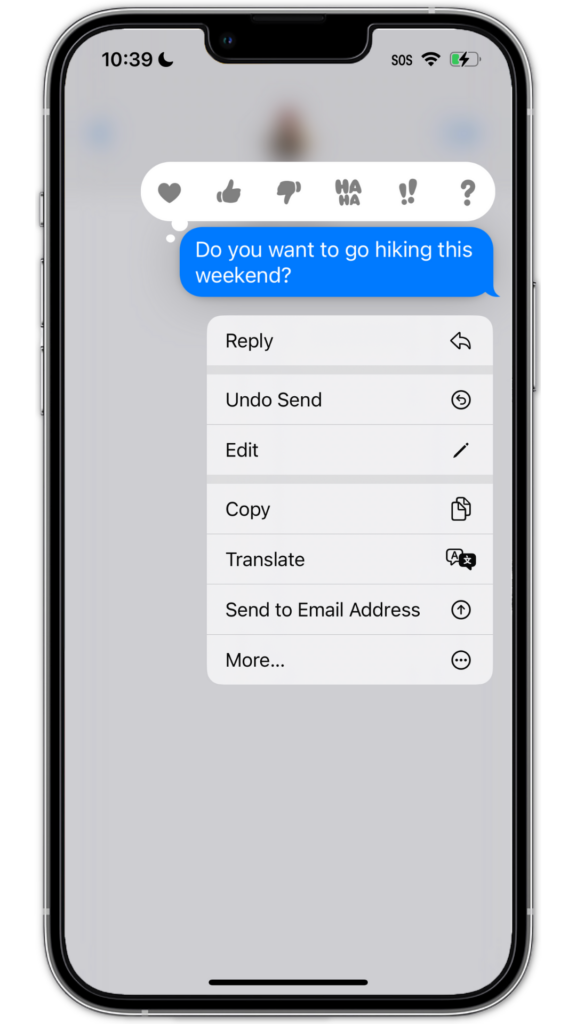 Apple iPhone 13 Pro displaying new Messages feature on iOS 16
Collaboration is huge in the iOS 16 update, which is why you can now send collaboration invitations on the Messages app. By sending this invitation, everyone on the thread will automatically be added to the document, spreadsheet or project. Compatible with Files, Keynote, Numbers, Pages, Notes, Reminders and Safari, as well as third-party apps.
Apple Handoff allows you to seamlessly switch between your iPhone, Mac or iPad when making Face Time calls. To make communication even more efficient, FaceTime now offers Live Captions. This means that you will now be able to see live automatically transcribed dialogue integrated into your calls.
Features added to iOS 16
With the new iOS 16 update, you will now be able to fully customize your Lock Screen, giving users a whole new experience when it comes to expressing their creativity and uniqueness. Users are now able to customize the font, color or the placement of their elements on their lock screen. If that is not exciting enough, you are also able to change your lock screen throughout the day with the ease of a swipe of the screen. With the Live Activities feature, you can stay on top of tasks that are happening in real time, right from your own Lock Screen. When in Focus Mode, iOS 16 will suggest relevant photos and styles for provided focus options.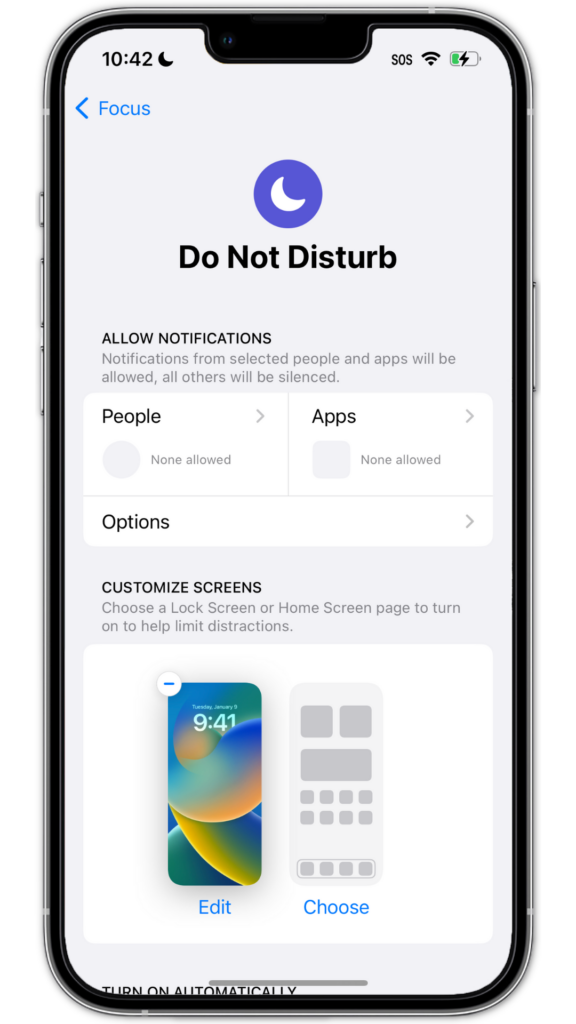 Apple iPhone 13 Pro displaying new Focus mode on iOS 16
Focus mode has become more precise and intrinsic than ever before. You will now be able to turn on Focus mode at a specific time, location or while using a certain app. The addition of Focus Filters allow you to set boundaries within Apple apps such as Calendar, Mail, Messages and Safari. Lastly, with the new focus filter API, iOS 16 syncs customer network signals to enable Focus to hide distracting content. Enabling Focus mode allows users to reach a more personalized and deeper level of focus all while remaining connected to their device.
Map improvements
The Apple Maps experience for iOS 16 just got so much better. Multi-Stop is now an option for traveling using Apple Maps. This means that users are now able to add multiple stops on routes in Maps. For planners and travelers, this update is exciting because users are able to plan out stops on any Apple device and it will automatically sync up to the iPhone. Speaking about planning ahead, you can also see how much your journey will cost with transit fares beforehand.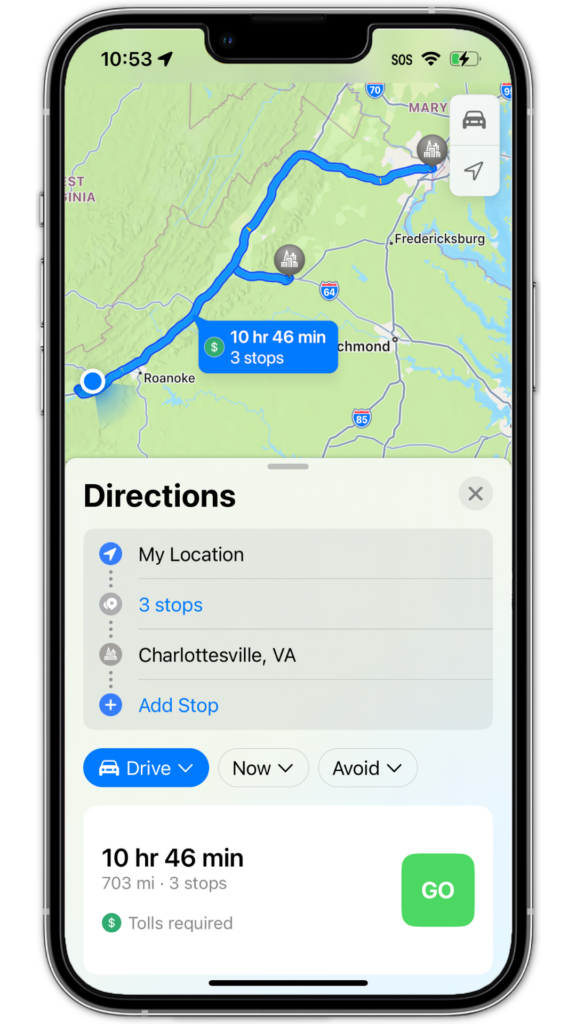 Apple iPhone 13 Pro displaying Maps route on iOS 16
Revamped Mail, Safari and Siri
The Apple Mail app has been revamped and redesigned to make it more helpful than ever to use. With the Improved Search feature, users can easily see a wider range of suggestions as soon as they start typing in the search bar. When writing emails, the smart search corrections feature will be able to detect any typos and suggest synonyms while typing. If you find yourself wanting to unsend an email message, not a problem with the Undo Send feature which allows you to do so before it reaches the recipient's inbox. Also, forgetting to send an email will be a problem of the past. With the Schedule Send feature, users are able to send their emails at the perfect moment. You will now have the option to add the follow up feature which automatically moves your sent email messages to the top of your inbox so you are quickly able to send a follow up.
The new and improved Safari is here with the iOS 16 update. Safari now has the Shared Tab groups which allows you to share a set of tabs with friends. Every participant is able to add their own tab and see the tab group update instantly as you all collaborate. The new web extensions API allows web developers to create even more Safari web extensions. iOS 16 also allows you to customize the website settings and sync other devices. For example, Settings you've set for specific websites, like Page Zoom and Automatic Reader view, will sync across all Apple devices.
Siri now has the ability to insert emojis when sending messages through Siri. Users can now opt to automatically send messages allowing them to skip the confirmation step using Siri. Lastly, Siri now has the ability to end calls for you. All the user has to do is simply say "Hey, Siri, hang up" (participants on the call will hear you) and the call will end. This feature is optional as well and can be set up on the Settings App.
Advance your iOS 16 customer support
For users, navigating iOS updates may seem intimidating and oftentimes customers may find themselves lost. With Ozmo's omnichannel tech support platform, your agents can receive complete access to every new software update for hundreds of devices and apps. With Ozmo, your contact contact center can be ready and equipped with all the information they need even during the iOS 16 launch. Not to mention, with Ozmo Self Serve, customers have complete access to easy-to-follow interactive tutorials to help them get the most out of iOS 16. These support tools empower customers to educate themselves on new device and app features confidently and independently.
Advance your tech support today by equipping your contact center teams and customers with the best-in-class support tools today.