BLACKSBURG, Va., August 12, 2021 -- Motorola Mobility, Chicago-based telecommunications giant, has chosen Ozmo's tech support platform to empower its remote agent workforce in providing outstanding customer service for a broad range of Motorola smart devices.
With Ozmo's robust library of virtual devices, Motorola agents can access the critical support tools they need from anywhere in the world at any time. This scalable library allows Motorola agents to effectively resolve customer inquiries for its own line of products, driving customer satisfaction and increased brand loyalty for the OEM.
The Ozmo support platform allows Motorola customers to receive effective, up-to-date support for all questions ranging from the simple to the most complex across a wide variety of Motorola devices. The introduction of the Ozmo platform has been met with strong agent adoption and overwhelmingly positive feedback.
"We are beyond excited to welcome Motorola to the Ozmo support platform," said David Catalano, co-founder and CEO of Ozmo. "As one of the top manufacturers of smart devices, Motorola has benefitted from Ozmo's platform since day one of implementation. We believe this partnership allows us to empower Motorola's agents in providing the best possible support experience in a new, distributed environment."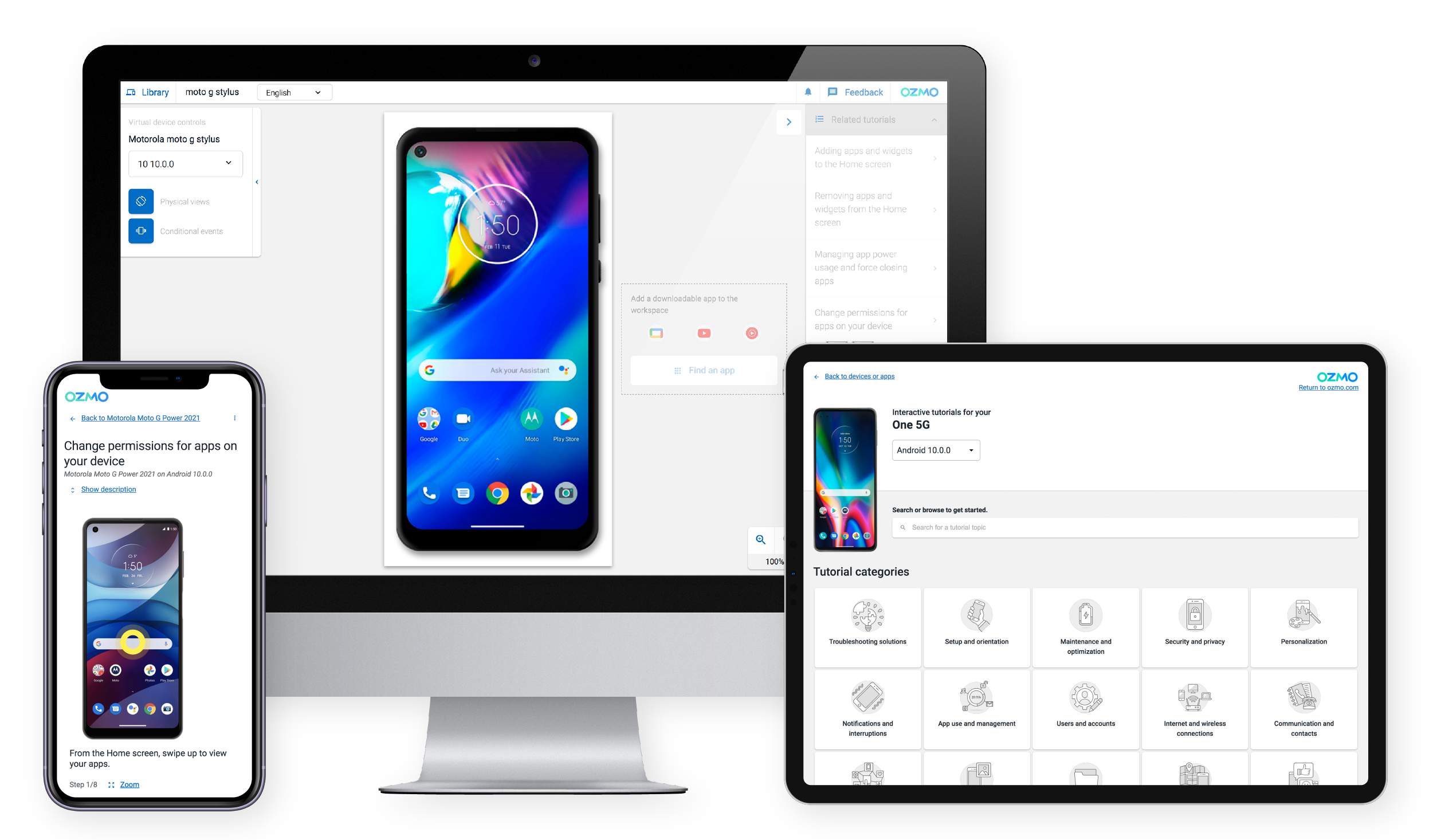 Every device and app is supported in the Ozmo platform across its entire lifecycle of software updates, which ensures Motorola agents can tailor support to each individual customer's unique setup. Motorola devices operate on the Android platform which means there are hundreds of potential variations of device and operating system configurations.
[Motorola's agents] are leveraging Ozmo on average 50% more frequently than our typical adoption rate after just a few months.

David Catalano, Ozmo co-founder and CEO
In 2020, Motorola took advantage of a free trial of Ozmo for Agents as it moved its contact center operations to a distributed, work-from-home model due to the COVID-19 pandemic. With Ozmo, Motorola received immediate value on day one of the trial and was able to execute a seamless transition to remote support operations.
The success of this trial led Motorola to permanently implement Ozmo's platform for its entire agent workforce. And now, Motorola agents can access Ozmo's robust library from anywhere, eliminating the need to be located in a contact center or have access to a physical library of Motorola devices.
"We are seeing really strong adoption with Motorola agents. They are leveraging Ozmo on average 50% more frequently than our typical adoption rate after just a few months," said Catalano. "We are confident that Ozmo will continue to empower Motorola in this new distributed environment and see adoption and success rates continue to rise."

About Lenovo & Motorola
Lenovo (HKSE: 992) (ADR: LNVGY) is a US$60 billion revenue Fortune Global 500 company serving customers in 180 markets around the world. Focused on a bold vision to deliver smarter technology for all, we are developing world-changing technologies that power (through devices and infrastructure) and empower (through solutions, services and software) millions of customers every day and together create a more inclusive, trustworthy and sustainable digital society for everyone, everywhere. Motorola Mobility LLC was acquired by Lenovo Group Holdings in 2014. Motorola Mobility is a wholly owned subsidiary of Lenovo, and is responsible for designing and manufacturing all Moto and Motorola branded mobile handsets and solutions. To find out more visit https://www.lenovo.com and read about the latest news via our StoryHub and Motorola Global Blog.
About Ozmo
Ozmo is a technology company headquartered in Blacksburg, Va. that creates software to solve tech support at scale. The omnichannel Ozmo support platform is home to tens of thousands of answers that can be served up across all support channels – from the traditional, agent-assisted to digital, self-serve channels. Ozmo's platform assists in over 25 million support interactions each year for customers that span the telecommunications, connected device and tech insurance spaces.