Ozmo has a long tradition of showing off that it's a central hub for general geekiness. Things like interactive displays help show our community members that we are their friendly neighbors in a fun and interactive way. For many years, Kent Square, the building that our Blacksburg, VA headquarters calls home, has hosted the downtown Blacksburg holiday tree contest where companies can showcase their holiday spirit to the community. One of Ozmo's core values is to take part in things bigger than ourselves, so it was inevitable that our team would embrace this tradition when we could. The contest is a great way to connect with our local community and is a tradition that we've enjoyed participating in every year with our own special twist.
Along with the contest fostering community outreach, our Ozmonauts also leverage the opportunity to have a small internal hackathon or build rush to design the most technology-inspired tree that we can imagine. This provides a fun and fail-safe environment for our engineers to experiment with new concepts and get hands-on training with advanced topics that they're passionate about.
Annual holiday tree collection
Before going into the details of the 2021 Ozmo holiday tree process, here is Ozmo's collection of holiday trees over the years. 
2016 Twitter tree
2016 was the inaugural year of the holiday tree contest and we considered this tree to be proudly geeky. The idea was to allow people to tweet a color code to the tree and it would react to their tweet to change the color of the lights. We utilized technologies such as Twitter's API, Elasticsearch, AWS and ESP's IoT chips to make the tree possible. Our engineers were able to reapply technologies from their own experiences and learn new methodologies to not only contribute to the execution of the tree but also incorporate in upcoming product enhancements. One of our teams favorite tweets from the 2016 tree was from a kid who tried to turn the lights off by tweeting the hex code for black (#000000)!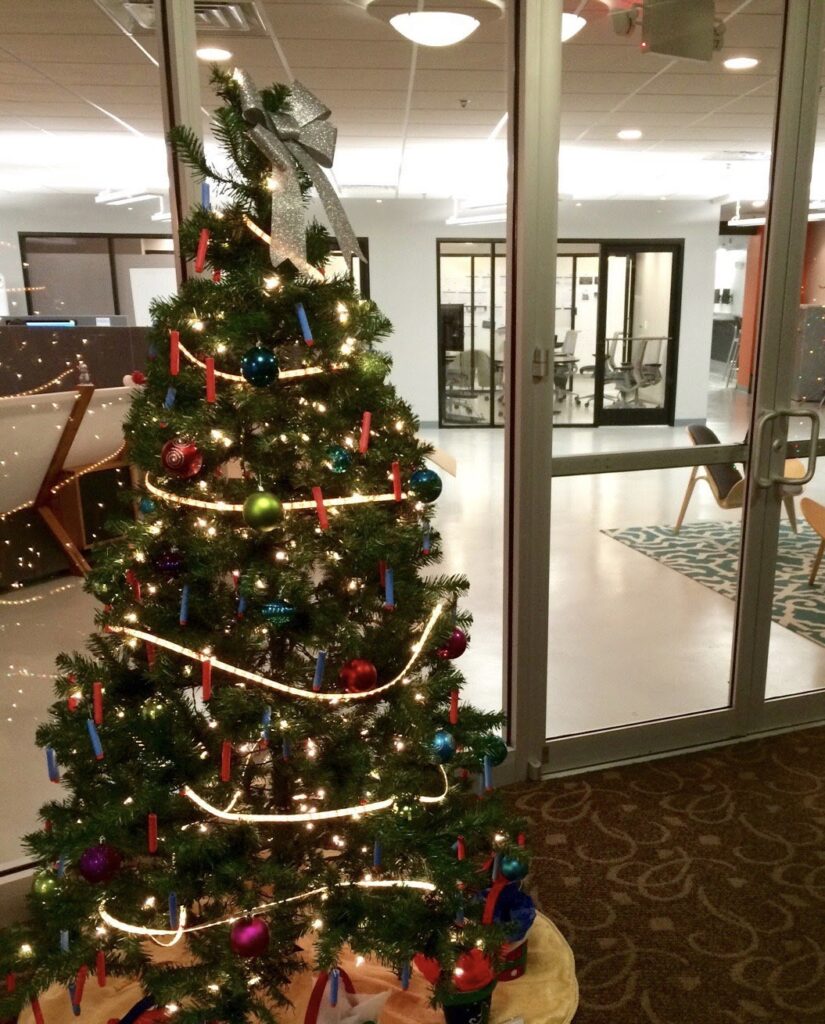 2018 DropTree
Our 2018 tree was inspired by the popular game DropMix, where we sought to create a display that could react to cards placed on a box. Underlying the interactivity was a complex combination of IoT hardware and code so that we could trigger light sequences and introduce dynamic colors.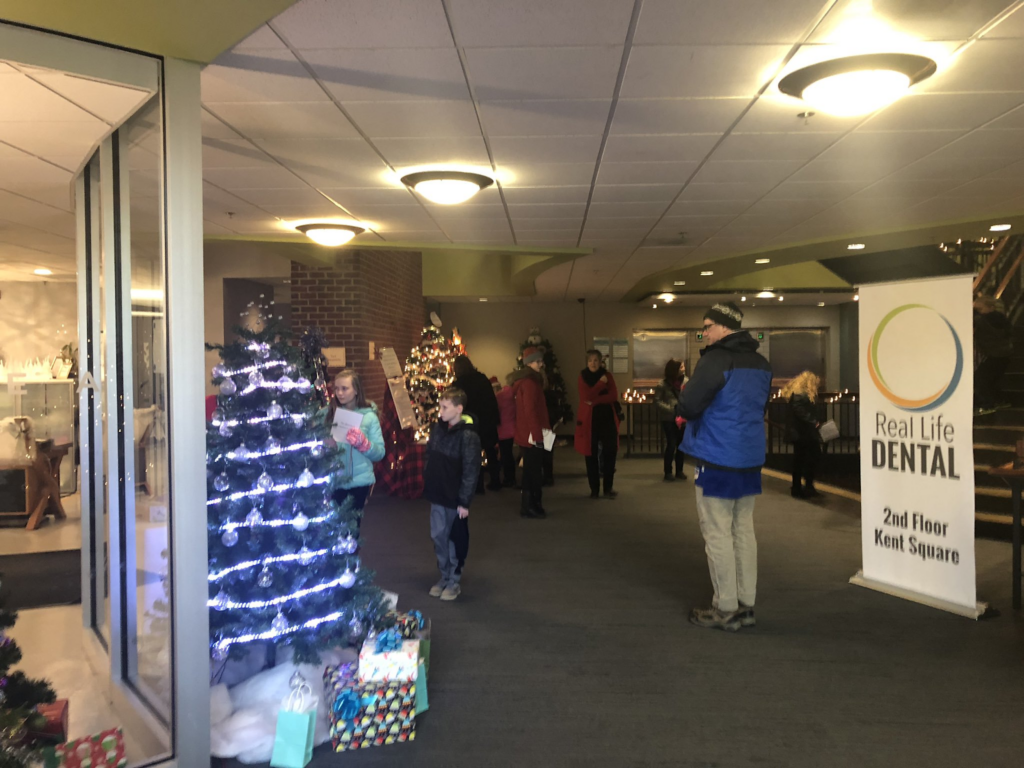 2019 NanoTree
Influenced by Nanoleaf's panels, the 2019 NanoTree was designed to react to music and lights while taking a more modern aesthetic to a holiday tree. Our team developed our own custom circuit boards to make this tree possible.
Want to learn about what it's like to be an Ozmonaut?
Ozmo holiday tree 2021 design
Each tree leveraged something unique that not only served as an outreach to the community, but also as a fun way to engage our staff to create something uniquely Ozmo. This year's tree was no different.
2021 SANTA tree
Our theme for 2021 was SANTA (Space and Aeronautical Nerd Tree Administration). Being the first post-pandemic tree, we wanted to make the requirements flexible and focus on putting together a tree that represented Ozmo. We decided to do a space themed tree that celebrates the Ozmo name, derived from "cosmos", meaning the universe or system of thought and "ozmosis", the gradual or unconscious assimilation of ideas and knowledge. We also added light sequences and custom 3DPrinted ornaments including a rocket ship tree topper.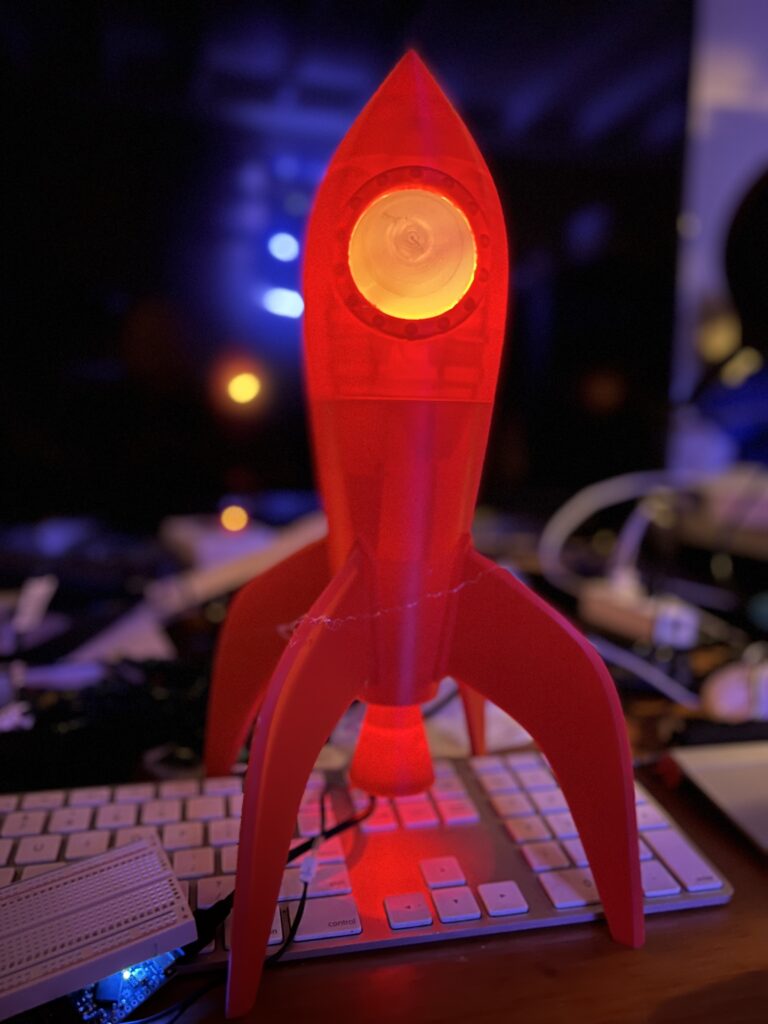 During the initial design process, we had ambitious plans to do a spiritual continuation of the tree from 2019 by doing another custom circuit board project. This time, we'd focus on making printed circuit board (PCB) ornaments for the tree, which each Ozmonaut would be able to take home after the tree competition. These ornaments would each include four RGB LEDs and chain with one another to perform sophisticated lighting effects when stringed up on the tree. Afterwards, the ornament would become a fun toy to put on display or help Ozmonauts learn about electronics design and programming.
Over a single weekend, a design was hashed out to near completion with a program called EasyEDA; however, it was ultimately decided that there simply wasn't enough time before the tree needed to be displayed.
Due to this, we pivoted to a backup plan of using an off-the-shelf solution for a holiday light show display called Twinkly. Twinkly allows us to easily create a 3D mapping of the lights on the tree and display complex effects like snow falling through the tree and candy cane swirls and instead opting to 3DPrint some special ornaments and of course a rocketship for the tree topper. The team picked a few designs and got to work printing the models.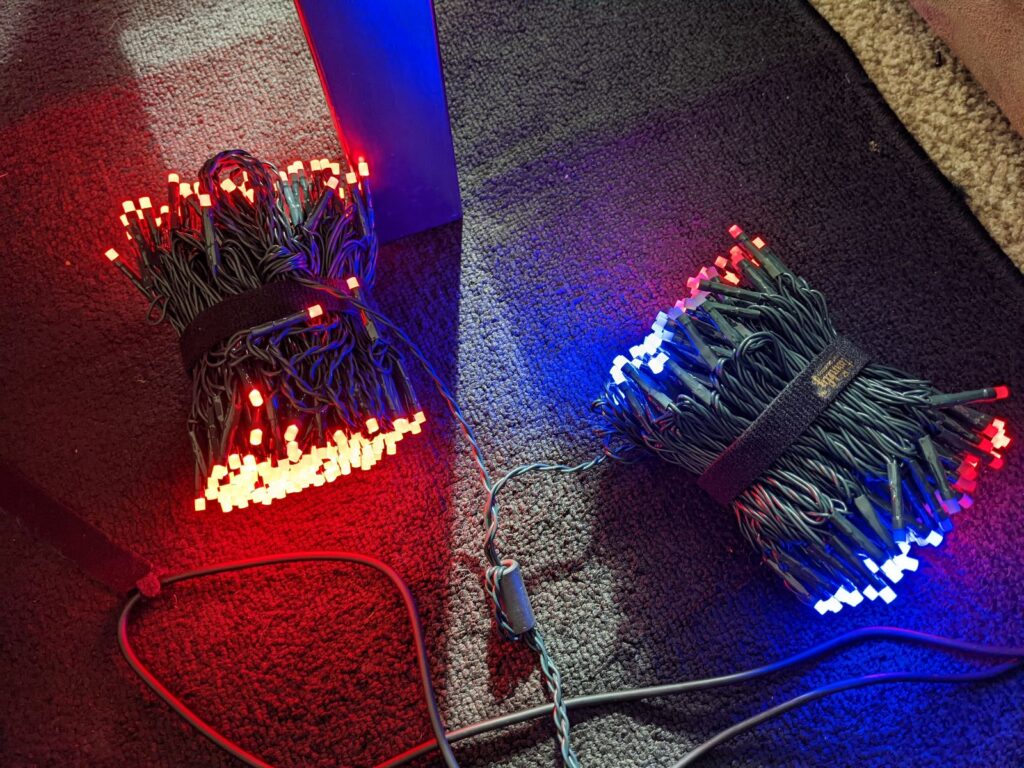 For the tree topper itself, we wanted to have it light up, so a microcontroller and micro LEDs were used with a custom design to allow it to light up. Our team added the final touches by hand painting and applying coating treatments to the ornaments. Once finished, the tree was finally flocked and assembled and our team was able to celebrate a job well done.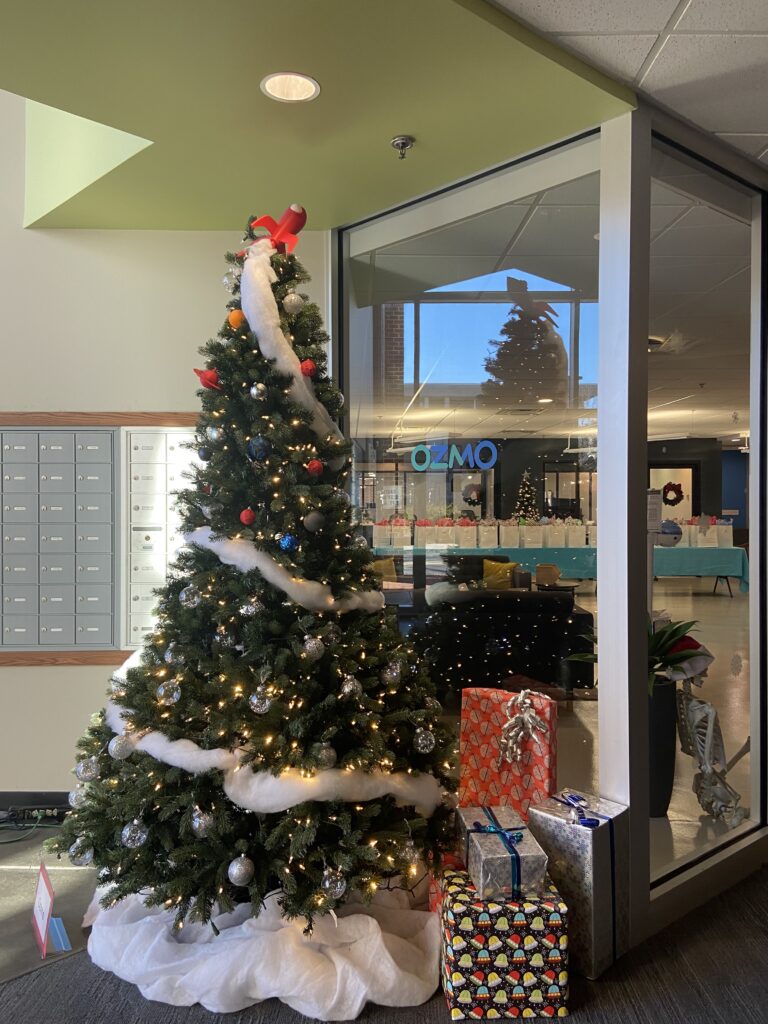 Happy holidays from the Ozmo team
Every year, our team is amazed by the collaboration and thought that goes into these trees and we couldn't be happier with this year's uniquely Ozmo tree. Special shoutout to the rest of the holiday tree committee: Kyle Krcmaric, Brian Rowe, Stephen Franklin, Erich Dalton, Michael Kessler and Brianna Geddings for helping turn a single idea into a reality.
Interested to know more about who we are and what our team is all about?