As digital adoption rates continue to increase among users, it's vital that companies can provide customers with the right tools that they need to effectively navigate their digital journeys, especially when it comes to customer onboarding.
One of the most effective ways to assist customers during their onboarding processes is to provide comprehensive self-serve onboarding tools. Research indicates that over 80% of customers attempt to answer their questions and solve their issues on their own before reaching out to a customer service representative.1
In this blog post, we'll define what customer onboarding is, share tips for successfully onboarding your customers and explain why effective self-serve is necessary to the success of your user base.
What is customer onboarding?
Customer onboarding is the process of introducing and welcoming customers to their new technology and to your company. First introductions lay the foundation of your users' experiences. When customers are equipped with the right tools and support during their onboarding, they are more likely to support and interact frequently with your business moving forward.
What makes self-serve customer onboarding so important?
The reason why successful onboarding is so important for your customer base is because it has the potential to dramatically influence digital adoption rates, customer satisfaction and brand loyalty among your customers.
Keep reading to learn more about the three tips necessary to successful customer onboarding.
The drive towards digital adoption
Onboarding is more than just giving customers the guides to get started -- it's an opportunity to set customers up with the right tools and capabilities that they have at their disposal while introducing them to your company. By promoting a successful onboarding experience, a company and its support teams can help drive digital adoption of its services and technology by encouraging customers to seek out self-serve solutions for future device, app or service questions.
Digital adoption not only positively enhances the customer experience, but it also greatly impacts your company's bottom line. Self-serve support is a significant cost-saver as it helps to reduce the number of calls coming into the contact center. By offering self-serve onboarding tools, companies have the potential to save millions of dollars annually while preserving their time and human resources to serve every support interaction. By deflecting the amount of assisted support interactions, digital self-serve technology can transform your business.
Empowered customers are happy customers
When digital adoption rates increase among your customers, so does their satisfaction. Customers who have reliable access to quickly and independently solve their tech needs are more likely to have positive sentiments surrounding their provider. Busy customers don't always have the time to attend follow-up calls or sort through lengthy instructional documents for their tech support answers, especially during their onboarding. Customers want to be able to begin exploring and extracting immediate value out of their new technology as soon as possible. Offering self-serve support through easily accessible guided tutorials helps make the onboarding process as painless as possible for customers and agents alike.
Boosting brand loyalty
Providing exceptional customer support via self-serve tools is directly tied to brand awareness and brand loyalty. Customers who consistently have their tech support needs met are more likely to recommend your company to others, whether it's through word-of-mouth, online reviews or customer satisfaction surveys. Research has shown that when it comes to brand loyalty, 69% of customers remain loyal to their cellular carrier, 56% to their cell phone manufacturers and over 54% of respondents were loyal to their cable provider.2 This is an opportunity for mobile operators, device manufacturers and broadband providers to boost their customer loyalty with more tailored and easy-to-use self-serve onboarding experiences.
Want to learn how to drive your customers to success during their onboarding?
Three tips for excellent self-serve customer onboarding
There are a variety of touch points to help provide the most clear and efficient onboarding to customers utilizing self-serve. These tips include:
1. Provide access to new device or service guided workflows
When customers obtain a new device or sign up for a new membership with their providers, it's important that these users are given support from the start. Joining a new network or switching to a new provider can be an uncharted territory for some customers, who are looking to your company for guidance. Providing customers with the option to bring their own device or begin their onboarding process with their new or existing device gives companies an opportunity to start off the customer's experience on a good foot. Customers like C Spire have benefited from Ozmo's guided onboarding workflows when it comes to getting acclimated to their new providers by bringing their own device.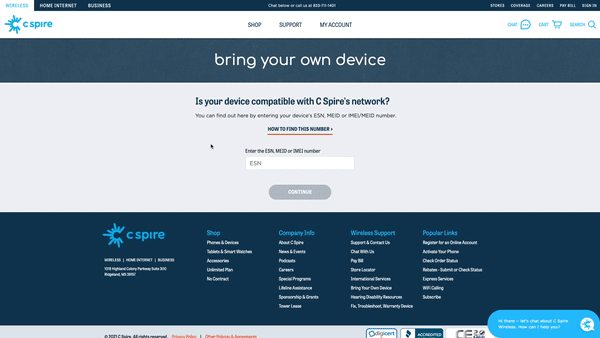 One way in which companies can provide this support is through guided onboarding workflows. These workflows offer uninterrupted, step-by-step guidance to customers during their orientation. These workflows can be customized and embedded as interactive tutorials and cover hundreds of different support topics.
Transferring content from your old device with a wireless connection
Samsung Galaxy S21 5G on Android 11.0.0
Using a weireless connection, you can use Smart Switch to move your pictures, videos, and other media files from your old device to your new device.
Note: Before getting started, check to make sure your old device is supported by Smart Switch. You can find a full list here.

From the Home screen, swipe up to view your apps.

Scroll to Accounts and backup.

Tap Bring data from old device.

Tap Wireless.

Note: After this step, select your old device type and follow the onscreen prompts to begin transferring your old content.

You've completed the steps!
2. Hit all the touch points
When introducing customers to your support, there are three main touch points that lay the foundation for effective customer onboarding. The key to effective onboarding is encouraging customers to utilize self support in their customer journeys. These include welcome emails, online self-serve hubs and in-store customer education.
Proactive support
A great way to introduce new customers to your company is with proactive support. Before the customer even knows they need help, meet them in their inbox by sending a welcome email, text or a push notification right to their device. In this initial communication, it's best to provide personalized self support content to the user. We recommend including the most common getting-started support topics tailored to the customer's device, app or service. This helps make customers feel valued and supported in their new user-journeys.
Self-serve hub
Another option for improving customer onboarding is creating a self-serve hub in low-cost digital channels, including your website and mobile app. When customers have a self-serve hub easily accessible to them via their preferred channels, they are more likely to utilize them to answer their own support questions. Mobile apps are a popular channel for customers to seek accurate answers while having the support right in their pockets. Offering a self-serve hub on your website can also be beneficial for customers. When customers turn to search engines for their tech answers, your website should be at the top of the search results to provide those answers. Organic search engine optimization (SEO) and in-site search capabilities are critical tools for your customers to find the answers they are looking for. Creating and maintaining a support hub with SEO-optimized content can provide customers with a central location to access top-tier support services that will allow them to smoothly transition into their new services
Within your support sections, we recommend that you include broad coverage of your company's supported apps and devices. The topics covered in your support hub should include all software and hardware details, from 'how to insert a new SIM card' to 'how to transfer your old device to your new provider' or 'how to manage your new account'. In these self-serve hubs, it's also important to provide support tools within the website itself, that way customers can access support at any time, whether they are viewing the content on desktop, mobile or through their service app.
Inserting and removing the nano SIM card
Apple iPhone 12 on iOS 14.5.0
Learn how to insert and remove a SIM card from your device. Your cellular service is activated through your SIM card; without it you cannot use cellular features. Note that a SIM card tray removal tool may be needed.
Note: Don't touch the gold contacts on your nano SIM card. That could damage the card. If you're using a new SIM card, you can activate it by contacting your carrier.

Locate the nano SIM card tray on the left side of your device.

Note: You must have a nano SIM card inserted in iPhone to place calls, access the internet, download apps, and share pictures over your carrier's network.

Press the card insertion/removal tool into the nano SIM card tray pinhole and push until the tray releases.

Note: The card insertion/removal tool is included in iPhone's box.

Slide the nano SIM card tray out of its slot.

Note: A nano SIM card may already be inserted in iPhone.

Insert or remove the nano SIM card into or from the tray with the gold contacts facing the front of iPhone.

Push the nano SIM card tray back into iPhone.

You've completed the steps!
Assisted support
The moment customers purchase a device, there is an immediate opportunity to educate end-users with self support. Interactive tutorials are an excellent way to guide customers through their onboarding processes. These tutorials can be accessed from any channel, whether in-person or online. ​​Arming in-store and contact center agents with easy-to-send guides and tutorials gives support teams the opportunity to advocate for digital adoption among customers as well. Agents can then train customers to utilize self-serve tools beyond their onboarding without having to come into the store or call into the contact center each time they need assistance. Not only does this ensure a consistent, guided setup experience for the customer, but it also arms end-users with comprehensive support tools.
3. Keep onboarding up-to-date
Keeping your support up-to-date is a critical part of providing accurate, first-class customer service. Device and app lifecycles are constantly evolving, and so should your support. Some support centers may only offer instructional documents or knowledge base articles during customer onboarding. However, oftentimes these lengthy, text-based guides are not optimized for proper technical support and education. These documents can also be difficult, if not impossible, to keep up-to-date as new software updates and offerings become available. With up-to-date, accurate self-serve answers, providers are able to seamlessly transition customers in their initial setup experiences.
Supporting customers beyond self-serve onboarding
Customer guidance and support needs to be provided to customers at every stage of their user journey. Support that covers even the most complex technical issues can transform not only your customers' experiences, but your organization's customer support operations and bottom line entirely.
To learn more about how to consistently support your customer through onboarding and beyond, request a free demo from our team of experts today.