The ultimate guide to providing the best customer self-service
How to create an exceptional customer self-service experience
Drive brand loyalty, increase retention and stand out from your competitors today.
Table of contents
---
Did you know that 81% of customers try to resolve a technical issue independently before reaching out to a contact center? This makes customer self-service the most popular format of technical support.
But the key isn't just to do self-service, but to do so in a way that empowers customers to find the information they need to resolve technical issues quickly and painlessly.
So how can your telecom or broadband company create a customer self-service experience that helps you stay competitive in an increasingly crowded market? In this guide, we go over everything you need to know about creating an effective self-service strategy.
Eight statistics that make the case for customer self-service
Below are a few reasons your telecom or broadband business should focus on improving customer self-service:
Challenges of traditional customer self-service models
Increase customer frustration
Not designed for learning
Slow the rate of digital adoption
Become outdated rapidly
Lead to customers taking unnecessary cybersecurity risks
Traditional self-serve options are often poorly designed, creating frustration for customers who prefer to resolve tech support issues independently.
Most self-serve formats come in the form of an FAQ page or lengthy online manual, which can create business headaches for multiple reasons. First, text-based manuals aren't optimized for customer education and retention of information. This leads to customer frustration and hinders digital adoption.
Secondly, these online resources can quickly become outdated. Technology evolves fast. Device manufacturers like Apple and Android release multiple new devices and software updates in a single year.
If you don't edit your FAQ pages or online manuals to reflect these new updates, customers will no longer be able to rely on you for answers, and may have to turn to online forums. These forums may lack accurate information, and can pose a potential cybersecurity threat to your customers.
The benefits of providing a high-quality customer self-service experience
There are numerous benefits to creating a frictionless customer self-service experience. One of the most obvious is that self-service provides customers access to technical support 24/7. However, there are many other ways customer self-service helps your business. We share some ways your business can benefit from a well-crafted customer self-service strategy.
What businesses can expect with great customer self-service
Boost cost savings
Stay competitive within the market
Increase Net Promoter Score (NPS)
Improve customer retention
Provide better smart home support
Drive digital adoption and reduce call volume
Your company will save more money
Self-service also creates substantial cost savings for companies. In fact, customer self-service solutions have helped Verizon save tens of millions of dollars each year. This is because companies that focus on improving customer self-service experience lower call volumes at their contact centers and increased first call resolution rates. Additionally, quality customer service reduces unnecessary truck rolls, which improves cost savings.
Regional service providers can stay competitive in the telecom and broadband markets
While providing customer self-service benefits any business, it can be particularly helpful for regional service providers trying to stand out in increasingly crowded broadband and telecom markets. Since a smaller provider focuses on serving a local community, it may have limited staff to handle customer service requests. Self-service helps regional providers stay competitive and scale to meet growing tech support demands.
Increase your company's net promoter score (NPS)
Monitoring your NPS score helps you understand the health of your business. By tracking your score, you can understand your company's performance and identify areas for improvement.
Customer self-service can be a great tool to improve your NPS score. Businesses with self-serve solutions increase NPS by reducing customer churn and turning loyal customers into brand evangelists.
Additionally, the average NPS for the telecommunications industry is 31. A telecom company that focuses on increasing its NPS score has an opportunity to stand out as an industry leader.
Improve your customer retention
Customer retention is a key metric for gauging your company's profitability. Improving customer retention has huge benefits for your bottom line. According to Bain and Company, a five percent improvement in customer retention can increase profits by as much as 95%. Empowering customers with the information they need to resolve their own technical issues leads to an increase in brand loyalty.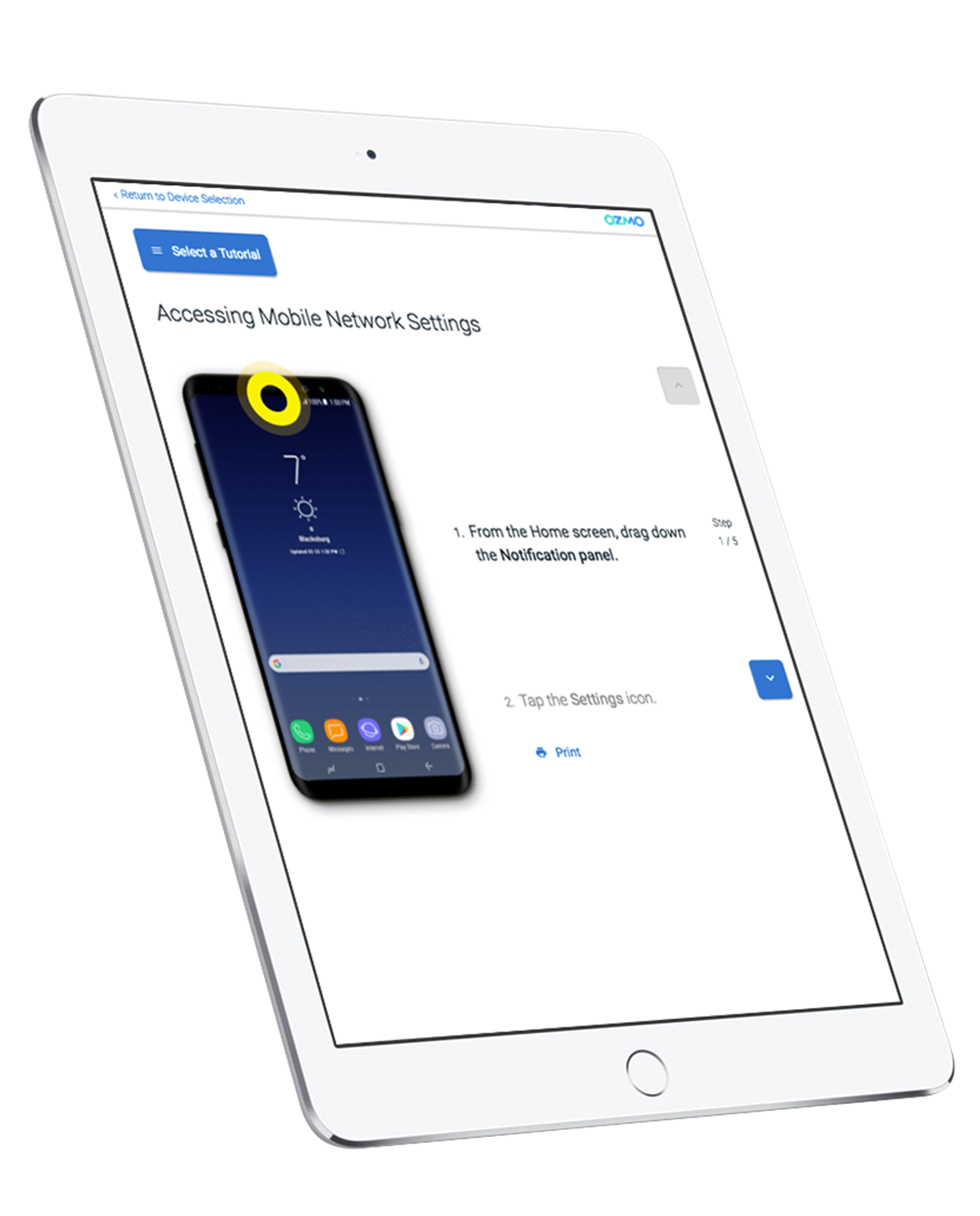 Exceed customer expectations
With unmatched self-service support
Learn about how a tier one U.S. mobile operator achieves positive customer retention with unmatched self-serve app support.
Provide better smart home support to customers
Providing better smart home support should be top of mind for any broadband company. The smart home market is estimated to be worth more than $537 billion by 2030. Customer self-service can help customers easily connect their new smart devices to their wifi without having to wait on hold in a lengthy contact center queue.
Broadband operators that craft an excellent self-service experience for smart home devices will enjoy increased spending from existing customers with unique opportunities to up-sell and cross-sell.
Drive digital adoption among customers
Self service helps drive digital adoption among customers. Your agents can play a key role in changing customer behavior.
For example, agents can send customers links to specific answers to their technical issues from your self-service software, and redirect customers to self-serve options during tech support calls.
This can help reinforce with customers to check out self-serve options before waiting in a long queue to speak to an agent for a simple product question. Doing so not only helps increase customer loyalty, but also helps reduce unnecessary business expenses.
Reduce call volume at your contact center
Without a self-serve support option, customers are forced to call your contact center for answers to even the simplest of questions. This creates high call volumes and lengthy wait times, which can lead to customer frustration. By implementing a self-service solution, you can reduce unnecessary calls and free up your agents' time to focus on more pressing tech support cases.
Seven customer self-service best practices
Provide a seamless customer onboarding experience
Make your self-serve resources easy to find
Remind your customers of self-serve availability
Ensure resources are accessible to all customers
Regularly update your support content
Provide customer tutorials in multiple formats
Make it easy for customers to access the information they need
The quality of your company's customer self-service makes a difference between customers sticking with your business or seeking out a competitor.
However, an online FAQ page isn't enough to stay ahead of industry rivals. Below are a few self-serve tips to help broadband and telecommunications businesses provide an exceptional experience that helps retain customers and scales your business.
1. Provide a seamless customer onboarding experience
If you want to keep customers for the long term, creating a streamlined customer support experience from the beginning is vital.
90% of companies lose potential customers during the onboarding process. By focusing on creating an onboarding experience that makes customers feel empowered and welcome, you'll be leaps and bounds ahead of competitors.
To effectively onboard your customers, you'll want to provide step-by-step guidance during the orientation. In addition, make sure to regularly update content for accuracy as your customers' software and hardware evolve, so they can always turn to you for trusted, accurate guidance in the onboarding process.
2. Make your self-serve resources easy to find
It's frustrating when your internet goes out or your smart device stops working. Customers want to get back to life as usual as quickly as possible. Don't make them dig around your website for answers. Instead, put your answers in a central location, like an app, to serve as a home base for customers to find the information they need fast.
3. Remind your customers of the availability of self-serve options
It's important to make customers aware of customer self-service to drive digital adoption. Your contact center can play a vital role in these efforts. For example, contact center agents can send a link to an interactive tutorial for customers to reference when troubleshooting an issue with their new software or device.
By encouraging customers to utilize your self-service options, you can reduce contact center wait times and call volume. This helps your business save money while migrating customer support online. An example of this type of self-service interactive tutorial is depicted below, which can be integrated into websites, apps and other digital channels:
Using Safety Check to review who can access your location and other data
Apple iPhone 14 Plus on iOS 16.0.0
From the Settings app, scroll to and tap Privacy & Security

Tap Manage Sharing & Access.

Note: If your device has a passcode lock, enter your iPhone Passcode, Face ID, or Touch ID to progress.

Type in your selected participants.

Tap on the participant's name.

Select the items you would like to stop sharing.

Tap Continue.

Note: Repeat the prior steps to remove sharing for additional people.

Step 14 of 14:

You've completed the steps!
An example of an interactive tutorial for tech support from Ozmo Self Serve
4. Ensure customer self-service resources are accessible to all customers
Did you know that one in four Americans has a disability? When implementing customer self-serve channels, ensuring that your resources are WCAG 2.0 compliant is vital.
Otherwise, your business risks alienating 25% of its customer base. And with nearly nine out of 20 customers willing to switch providers after one bad experience, not ensuring WCAG compliance is a considerable risk for your company to take.
Additionally, if your self-serve resources aren't accessible, your company could find itself in legal trouble. Many countries have laws requiring companies to ensure customers of all abilities can enjoy the same services or digital experiences.
These guidelines from the Web Accessibility Initiative inform companies of best practices that make online content accessible to customers with vision, hearing, or other disabilities. Some examples of WCAG compliance best practices are including captions on videos and providing contrast between foreground and background.
5. Regularly update your self-service support content
Software and tech companies release multiple updates in a single year. Your self-serve content needs to keep up to gain customer trust and increase customer retention.
However, updating all of your customer service content can be time-consuming. When choosing a customer self-service solution, look for software that updates dynamically.
Self-service software that updates dynamically means you and your customers can enjoy peace of mind knowing that these online resources are always accurate and reliable. It also frees up your team's time to focus on other tasks.
6. Provide customer self-service resources in multiple formats
As mentioned previously, the days of long technical manuals and FAQ pages are over. Your business needs to deliver the content they want in the format they want to improve the customer experience and customer satisfaction.
These days, more and more customers prefer videos when learning to troubleshoot issues with a product or software. 91% of customers want to see more videos from brands. We will discuss this more in-depth in the next section.
7. Make it easy for customers to access the information they need
You may have a lot of self-serve tutorials on your website, but don't make customers go hunting around for it on different parts of your website. This can create frustration and lead to a poor customer service experience, negatively affecting NPS and custom retention goals.
Instead, provide a home base to make it convenient for customers to find and access information to resolve their tech issues independently. Instead of scattering vital information throughout your website, put everything they need in one place.
The role of interactive and video tutorials in customer self-service
Most customers prefer video versus traditional text-based content, and nowhere is this more true than in customer self-service. 96% of customers watch informational videos to learn about a product or service.
With so many customers moving away from text-based instruction manuals, self-serve video tutorials and interactive learning options are non-negotiable for your customer self-service strategy.
The benefits of interactive and video tutorials
There are numerous advantages to using interactive and video tutorials in your customer self-serve strategy. Below, we share a few crucial ways these tutorials benefit your customers and your business.
Create a better onboarding process
The self-serve onboarding process gives prospective customers a first impression of your company. Therefore, the importance of a seamless onboarding experience can't be overemphasized. Creating an optimal video customer experience increases feature adoption and reduces customer churn.
Increase customer satisfaction
When done correctly, interactive and video customer service increases your company's NPS score and customer satisfaction. This, in turn, benefits your business. Not only is your company more likely to retain customers, but 89% of customers also say they're more likely to complete additional purchases after a positive customer service experience.
Reduce tech support costs
Video tutorials can also help businesses reduce unnecessary expenses. Since interactive or video tutorials can easily answer a customer's simple tech support requests, contact center wait times are often reduced. As a result, businesses can save money with low-cost tools that empower the customer to resolve issues independently.
Examples of how real businesses have benefitted from interactive and video tutorials
Videos and interactive learning options are crucial to a successful customer self-service strategy. When done right, these tools help both businesses and customers succeed.
Here are a few examples of how actual companies have benefited from implementing interactive and video tutorials:
Similar to self-service interactive tutorials, video tutorials can be easily embedded into a variety of digital channels, including websites, apps and more, as seen here:
An example of a video tutorial for tech support from Ozmo Self Serve
How to choose the best customer self-serve portal
Outline your customer needs and business goals
Research the company
Choose a solution that's accessible
Look for software that updates dynamically
Find a solution that provides customer education in multiple formats
Select a program that offers quick and easy integration
Attend a product demo
These days, customer self-service isn't just a customer service strategy; it's a critical business strategy. In fact, 81% of companies see customer service as a key differentiator. But which solution is the best for your company and your customers?
Below are a few key considerations to keep in mind when choosing a self-serve solution for your business.
Outline your customer needs and business goals
There are numerous customer self-service software solutions on the market, but not all of them will be the right match for your company.
Before you start your research, take stock of your business's priorities. What do you hope to achieve with a self-serve solution? What features are non-negotiable for your business? You can do this by using a customer support goal setting worksheet to help identify areas for improvement in your team's top KPIs. Additionally, review customer feedback to identify areas for improvement with your customer self-service. Answering these questions and reviewing customer feedback will help you narrow down your search to solutions that align with the needs of your customers and company.
Research the company
Choosing the right self-service product for your business isn't something you take lightly. To find a solution that matches your business needs, do some research on the company first. Read case studies to see if the business delivers results for real clients. Browse their blog and read insights from experts on industry news, best practices and other tips. Read reviews to see what other clients have to say about the quality of its services.
Choose a solution that's accessible
As mentioned earlier, a quarter of the U.S. population has a disability. Additionally, many states and countries have laws that require a company to make its website and other digital content accessible. When comparing your options, look for software that's WCAG compliant. WCAG compliance ensures that your customers can always get the information they need, regardless of ability.
Look for software that updates dynamically
Technology is rapidly evolving, and traditional customer self-service quickly becomes irrelevant. However, most companies don't have the time or ability to dedicate a team to constantly updating tech support content.
That's why it's critical to choose a solution that updates dynamically. This means your tech support content updates as soon as your customers' devices or software does. With automatic updates, your customers can trust you to provide accurate information that helps them quickly troubleshoot any technical issues.
Choose a self-serve solution that provides customer education in multiple formats
Not everyone learns the same way. Many traditional self-service options are lengthy articles or FAQ pages. 65% of people are visual learners, so sticking to an all-text format can hinder digital adoption by customers. If you don't provide information to customers in their preferred format, they may be forced to look elsewhere, using resources that are less than reliable.
Instead, look for companies that provide other options, such as videos or interactive tutorials. If possible, view sample videos or interactive tutorials the company offers to see what the experience is like from the customer side.
Keep all of your self-service tutorials in one place
Your internet going out or your tablet malfunctioning is inconvenient, to say the least. The last thing customers want to do is spend several minutes scouring your website to find information on troubleshooting tech issues because you've put your tutorials in different places. Instead, put everything they need in one place.
One way to do this is to use a streamlined portal integration. These portals integrate with your website, and can be implemented in a few minutes. This helps customers by providing a central knowledge base with access to reliable information, so they can quickly get back to enjoying your broadband or telecom services. By integrating with your website, these portals also help maintain a seamless brand experience.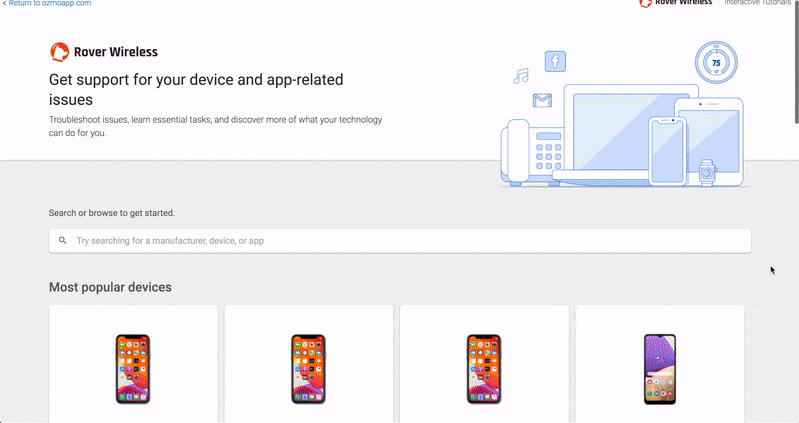 In addition, these services are easy to implement for your IT team. By choosing a solution with a simple website integration, you can keep both your customers and employees happy.
Attend a product demo
Selecting a new self-serve software can be daunting. It can take hours of research and product comparisons to decide.
If possible, sign up for a demo to see a product in action. That way, you can ask questions and take notes to better assess how a solution best fits your company's and customers' needs.
Below are a few examples of questions to ask during a product demo:
How many years do you have in the industry?
How often do you update your products or services?
What channels can customers use to access self-serve tutorials?
What do customers like best about your software?
What makes you better than your competitors?
How quickly can your self-serve portal be integrated into websites?
Who are some of your current customers?
Can you share results you've achieved with previous customers?
Customer self-service is critical to the success of your business
The days of providing a quick FAQ page for customers is long gone. The majority of your customers prefer to resolve their technical issues independently, only reaching out to an agent as a last resort.
For your broadband or telecom business to stay competitive, it's vital to meet customers where they're at. That means creating a streamlined onboarding experience, providing customer self-service that's accessible and using videos or interactive tutorials to empower customers to resolve their own tech support issues.
Doing so not only makes your customers happy, but it helps reduce unnecessary business expenses, increase profitability and drive customer loyalty. By using this guide, your team can craft a strategic self-serve experience that your customers will love.

Are you looking for more help than a guide can provide? As a leader in omnichannel tech support, Ozmo is trusted by Verizon, Appalachian Wireless, TELUS and more. Learn more about how Ozmo Self Serve can help you meet your business KPIs.