Many broadband providers view effective app customer service as a centerpiece of their customer experience strategy. Customers use apps such as MyAccount apps to manage billing, make payments, view statements, add new users to their plans, shop for new products and more. Apps are key components to the success of many businesses as they act as a central source that controls, monitors and manages customer accounts. If tech support isn't a part of a broadband provider's account app, the company could be missing out on another opportunity to delight its customer base.
Our team of experts who interact with numerous broadband providers every day has discovered that the providers with exceptional app customer service are more likely to have higher net promoter (NPS) scores, positive agent engagement rates, and a greater number of resolved support inquiries. The customer experience is constantly evolving and app customer service should not be a forgotten part of this change.
According to BuildFire, the average smartphone owner uses 10 apps per day and 30 apps each month. Younger generations, such as Millennials and Gen Z, would prefer to solve a tech support question without having to interact with a contact center agent. Due to this sheer level of app engagement and a trend towards customer self-serve, apps could be a perfect channel for highlighting support answers.
The average smartphone owner uses 10 apps per day and 30 apps each month.

BuildFire
If your organization wants to elevate its customer experience and doesn't have effective app customer service, now is a great time to start incorporating it into your broader support strategy.
What effective app customer service looks like
App customer service can take different forms. Some providers link out to their support site from within an app while others write unique content for their account app or embed answers from a central source. For the best possible experience for the customer, we recommend easy-to-follow, step-by-step visual tutorials that are integrated into the app experience and consistent with other digital channels.
Consistency
It is important to keep app customer service answers consistent with other channels so that a customer doesn't run into multiple variations of a single answer to the same question. Sometimes, a customer might leverage an in-app answer in addition to contacting an agent or inputting their question into a search engine. If the answer differs from channel to channel, a customer might follow the wrong steps or become uncertain as to which answer will best resolve their support inquiry.
By having an extensible, single source of answers that can be integrated into all channels, customers who utilize a combination of sources will find the same answer on each channel that they interact with. This is beneficial because if a customer is exposed to a consistent answer on different channels they will have more confidence that they can trust the answer and that it will resolve their issue.
Answer accuracy
When new routers, mobile phones or connected home devices are launched or existing models update, in-app answers should update automatically with the latest version of the content to help guide customers through their technology problems. Otherwise, a customer might become confused by following an outdated guide that doesn't mirror their experience.
Naylor Gray, AVP of Product Marketing at Calix, mentioned that the broadband industry has an average NPS of -6, where an optimal NPS score is 20. Answer accuracy is a key pillar of effective app customer service and will help to improve NPS scores and create a better customer self-serve experience.
To increase satisfaction, customers should be able to independently find concise and accurate tech support answers within their apps. Happier customers are more likely to bundle additional services and stay with their provider for a longer period of time, leading to an increased average revenue per user (ARPU).
Looking to improve your app customer service?
How providers are offering excellent app customer service
At the Broadband Services Seminar hosted by ResearchFirst, Senior Consultant and Broadband Product Manager Allan Pieroni at Kinetic by Windstream, a U.S.-based voice and data network communications provider, mentioned that Kinetic is treating their app as a key channel to their business and is evolving it to be a central universe for their customers.
Kinetic isn't alone. Verizon Fios has tech support answers integrated directly into their MyAccount app. This helps Verizon Fios drive digital adoption as customers increase their session duration times and improve monthly and daily active user rates.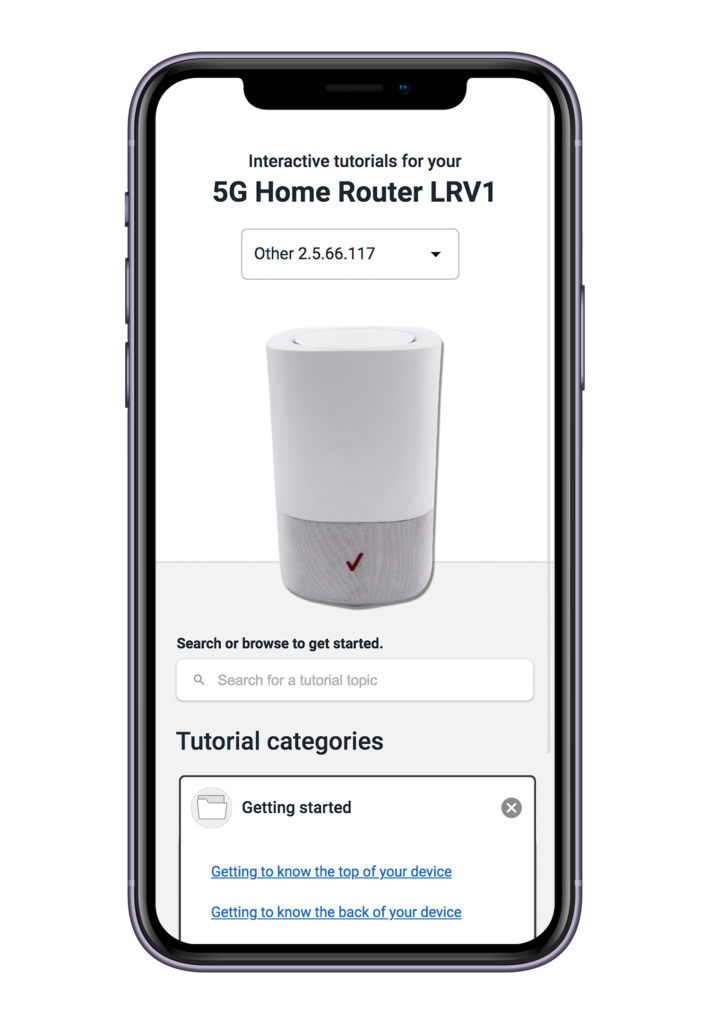 In this example, Verizon Fios can integrate all tutorials related to their 5G home router into their MyAccount app. Since 50% of customer calls are due to wifi issues or setting up home internet routers, having answers directly integrated into the app experience can help customers solve their own questions. This can help to prevent a truck roll that might otherwise be needed for the setup and troubleshooting of a customer's device.
Ozmo partners with numerous telecom and broadband providers and more to deliver tailored self-serve experiences from presale education to post-sale support for home internet, IoT devices and more. Out of all of the content that Ozmo's tech support experts have been able to create, the MyAccount app customer service is the highest used content across all customers. Every day we are continuing to collect additional data points on how effective app customer service can elevate the customer experience.
APIs for personalized app customer service
There are many ways that tech support answers can be leveraged within apps. For answers to be both consistent and accurate, we recommend leveraging on-demand answers that are pulled from a central database.
When partnering with a vendor, on-demand answers can be surfaced via an API. A provider's mobile app can use an API to surface answers immediately within a mobile application, giving customers immediate access to the support tools that they need on their device at any time.
Leveraging an API instead of manually creating in-app content ensures that answers are always up to date and that the support experience is personalized to a customer's unique device and operating system.
How agents can encourage app customer service
As important as it is to create exceptional self-serve experiences so that a customer feels empowered to answer their own question within an app, it is equally important for a contact center agent to be aware of the tech support that is available to a customer within an app.
If agents are aware of and understand the app customer service available at their organization, when a customer submits an inquiry to a contact center, they can either follow along with what the customer is seeing and/or direct them to where the right answer to their question is located within the account app.
Using virtual apps
An agent can follow along with what a customer is seeing through the use of a virtual app. A virtual app or app emulator is a digital, freeform representation of a mobile or web application that functions just like a live version of that application. Virtual apps can emulate the screens, features and functions of any application. A support agent can interact freely with the virtual app, navigating screen-by-screen and guiding the customer through hundreds or thousands of pathways.
Ozmo was able to partner with a leading mobile operator where agents sent over 25,000 tutorials to customers related to their MyAccount apps, driving digital adoption and successful, independent guidance to thousands of end-users. These guided tutorials for the customer's My Account app cover a wide variety of topics, software versions and operating systems including Android, iOS and web.
Differentiating your support with top-tier app customer service
With more and more broadband providers competing with one another by offering multi-gig internet speeds or lowering their prices as certain offerings become antiquated, broadband providers can avoid the race to the top and set themselves up for success by differentiating on top-tier tech support.
Top-tier tech support looks differently now in 2022 than it did a few years ago. With a greater number of customers working from home since the COVID-19 pandemic, the increase in broadband connections and proliferation of IoT devices has made it more challenging for broadband providers to keep up with changing customer support demands. Customers now expect to find the device answers that they are looking for in a convenient and timely manner, which includes discovering the answers that they need within a dedicated account app.
Apps have always been and will continue to play a large role in an organization's digital transformation strategy. When accurate and concise information is served in a provider's app, the turnkey experience will empower customers to solve their own questions via digital channels, which can cut costs and build positive, lasting relationships. If you're looking to begin or optimize your business's app customer service, you can get started by learning about another provider's experience here.