In early 2021, Employee Development Manager Leah Hamblin founded the Ozmo Women's Network (OWN) to foster connectivity between women and other individuals with like-minded values across the organization. Due to an increased desire to remain connected to colleagues in a remote environment, OWN was born. Today, OWN is approaching year three of the program with almost 30 members. OWN has positively impacted Ozmo's organizational culture through mentoring, networking and knowledge-sharing.
Creating a diverse, equitable and inclusive culture at work
The Ozmo Women's Network holds a monthly, one-hour virtual gathering focusing on topics of interest to members. Members may present a topic of choice and participate in active discussions before and after presentations. Past presentations have focused on the imposter syndrome phenomenon, women in sports and emotional intelligence. External speakers have been invited to present on topics including persuasion, negotiation and women in leadership.
Each year, OWN celebrates International Women's Day and Women's Equality Day by promoting the cultural, economic and political achievements of women. In July 2022, the OWN held its first annual mid-year rejuvenation event as a way to promote physical and mental well-being. OWN members were encouraged to schedule a "no meetings day", participate in a virtual yoga session and engage in a scavenger hunt designed to get everyone up and out of their chairs.
OWN also actively discusses how to improve Ozmo's workplace culture. Members were surveyed anonymously to learn about perceptions of the most positive-and least positive- aspects of Ozmo. Subsequent roundtable discussions about improving the culture had a positive impact. To date, several actions have been taken, including:
Initiating several online chat groups related to LGBTQ+ related topics
Increasing outreach to underrepresented groups when recruiting to fill Ozmo positions
Updating Ozmo's website to include more information on diversity, equity and inclusion (DEI) initiatives
Reformatting Ozmo's company-wide Town Hall meetings to be more conversational and interactive among employees
OWN is a great way to build relationships with women across departments that I wouldn't normally have the opportunity to work with on a regular basis. It's awesome to hear about other ladies' experiences in the tech world and talk about how to be your most successful self. And chair yoga to start the day is the best!

Anna Berman, Product Designer at Ozmo
The OWN mentor program
Recognizing the need for dedicated mentorship among women at Ozmo, OWN piloted a mentoring program in the spring of 2021. The OWN mentor program pairs positive, high performing women at Ozmo with other Ozmonauts who are interested in developing skills, building self-confidence and advancing their careers. Mentors and mentees are paired based on shared interests including professional development, problem solving, networking and building technical skills. Mentees and mentors learn more about each other's personality traits, aptitude and interests outside the workplace. Once matched, mentees complete a career development worksheet to identify areas of primary career interest. They set short-term and long-term professional goals and explore potential pathways to achieve these goals. Mentors and mentees establish a routine and schedule regarding meeting frequency to review these goals.
Since its first pilot, the OWN mentorship program has been a success and the group is preparing for its third cohort in early 2023.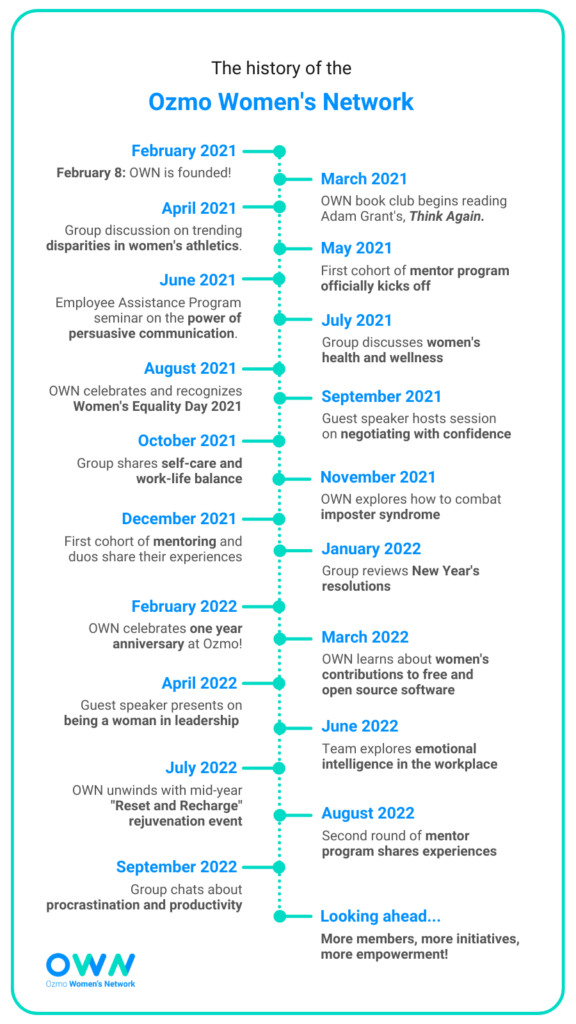 The history of the Ozmo Women's Network (OWN) timeline
Benefits of being part of the OWN mentorship program
Mentors and mentees enjoy a bi-directional relationship that is beneficial to both the mentor and the mentee. Being a mentor offers an opportunity to develop leadership skills, improve communication skills and gain recognition as a leader. Being a mentee helps enhance professional development, improve skills and better navigate workplace culture. Several of the OWN mentors have received promotions and increased compensation. Additionally, multiple mentees now serve as mentors for new OWN members.
Since being in the OWN mentor program, I've gained a newfound confidence in myself and my work. I've built connections with Ozmonauts, listened to some of the most inspiring stories and helped uplift others in our space. It's been such a remarkable experience and I'm so grateful to be a part of this amazing network.

Madie Brookens, Inbound Marketing Specialist at Ozmo
The importance of women-led mentorship in the workplace
Women's mentor programs provide a network of support where employees can come together and discuss shared experiences. Mentoring also helps build confidence and allows for collective processing and decision making. Many large technology and non-technology companies value formal mentorship programs for increasing diversity, retaining skilled employees and promoting employee advancement. Mentoring programs have been shown to be a scalable, affordable way to train employees, create a better culture and reduce employee turnover.
OWN in the community
Several OWN members are part of the Roanoke-Blacksburg Technology Council Women in Technology (RBTC WoTech) group. RBTC is a non-profit organization in the Roanoke-Blacksburg area of Southwest Virginia designed to grow the region's innovation and technology sector through networking, mentorship and other events. WoTech champions women in the region by providing in person and virtual professional development opportunities for women in the region's tech community. The Ozmo Women's Network's very own Lea Hamblin helped established WoTech events including Monthly Morning Jolt where members drink coffee and watch a topic-based presentation tailored for women in tech; Power Hour, a bi-montly networking event typically hosted at a women-owned business and Quarterly Lunch N Learn where participants listen to a guest speaker over lunch and hone their skills and explore professional development.
Why women's networks are valuable
Women's workplace networking groups are not new - they have existed for decades. In recent years, more inclusive work environments are a priority at most other companies, including Ozmo. Women are under-represented in technology.1 Further, women are under-represented in leadership and senior management roles. Women's workplace groups, like OWN, provide a supportive environment for women to share common experiences, mentor and support other women and foster professional growth. OWN focuses on promoting an environment where individuals have a dedicated space to share common professional and personal experiences.
Lea Hamblin did a great job summarizing her experience with women's mentoring programs: "Being a part of WoTech is what led me to reach out within my Ozmo village to create the Ozmo Women's Network. This has become even more important as we have shifted to a 100% remote work environment. We have Ozmonauts all over the country and it is necessary to know who you are working with on a deeper level to build trust and support networks within the virtual walls of our organization."
If you are interested in learning more about the Ozmo Women's Network and other initiatives similar to OWN, explore Ozmo's DEI efforts or contact info@ozmo.com for more information.