Nearly a year and a half after the statewide mandated stay-at-home order, Ozmo is now transitioning employees back to its Blacksburg, VA office into a hybrid workspace.
Ozmo's team members have been working together to set up the office in preparation for welcoming back over 90 employees to the Blacksburg office headquarters, including 64 employees brand new to the Ozmo office.
Getting back to in-person
Ozmo's leadership teams have been preparing for the back-to-office transition since the beginning of 2021. During June of this year, Ozmo staff began the move-in process by setting up new equipment and organizing employees' newly updated workspaces. Over the course of the month of July, Ozmo hybrid teams and employees have been making their way back into the office in waves in accordance to our safety guidelines. 
"We have been sequestered in our homes for so long, so while everyone was excited to return, there was definitely anxiety around what it would be like to be together again," said Lea Hamblin, Employee Development Manager. "We wanted to approach our return to the office in a way that was fun, low stress and allowed time for everyone to reconnect."
Prior to welcoming Ozmonauts back to the office, employees' work environments were determined on a team-by-team basis based on what worked best for each team as well as how their members worked together. Managers worked closely with individuals on their teams to determine their arrangements based on the working nature of each department and whether their workflows were better suited for in-person collaboration or in a more individual, at-home environment.
Want to know what makes Ozmo such a unique place to work?
Similar to a college move-in experience, each day starts with curbside service and a welcome committee to assist each employee upon their arrival. Leadership teams have worn custom move-in "staff" t-shirts and unloaded equipment from employees' cars upon arrival. Each workspace is prepared with personalized welcome notes from Ozmo with treats for each individual. Ozmonauts are then registered and checked-in by the IT and HR teams for all of their supplies, parking and check-in needs. Once settled, individuals can sign up for professional headshots to update their work profiles as well explore the office with Ozmo's tour guide and Administrative Assistant, Brianna Geddings. While on tour, Ozmonauts have the chance to learn about the history and evolution of the office over the years.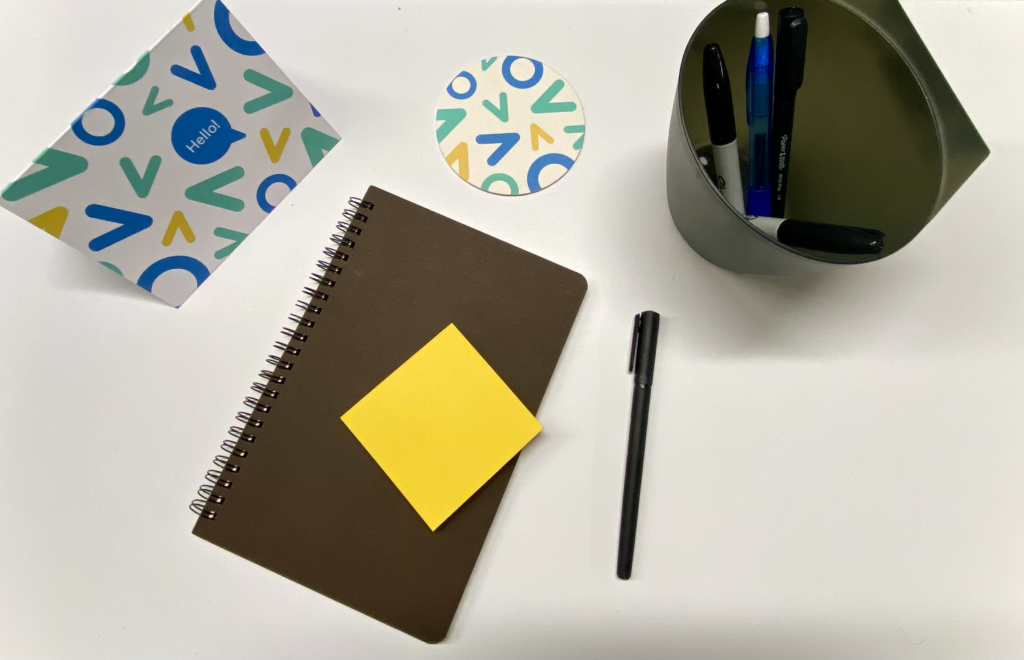 "It was not only important for us to bring each department together again but to also strengthen our team bonds and set individuals up for success in their new environment. We also put an emphasis on Ozmo's culture by wrapping up each move-in day with a club fair for special interest groups such as gaming and music," said Hamblin.
Ozmo's open work environment allows for efficient collaboration between teams and coworkers. Available conference rooms allow individual departments to meet separately while supporting fully-remote individuals via video conferencing.
The thing I missed the most while working from home was hearing everyone's laughter. When we were all in meeting rooms on mute all the time, I found I really missed hearing everyone's responses, so I'm very glad to have it back. It's been great to see everyone's faces and hear about their weekends.

Kara Sutphin, Associate Support Analyst
Prioritizing Ozmo hybrid employee safety
COVID-19 safety measures are still in place following the newly updated statewide guidelines. Employees who are not fully vaccinated are required to continue to wear a mask in the office and individuals who are fully vaccinated are welcome to wear a mask at their own discretion. Workspaces have been created to account for all employees who will work in the office more or less frequently than others, based on their comfortability and team workflows.
What I am most looking forward to being back in the office is seeing and collaborating with my friends and co-workers in person again. I love the culture and atmosphere that Ozmo has to offer and I am overjoyed to be back and experience it in person again.

Dylan Ondell, Associate Product Designer
Ozmo staff will continue to remain adaptable during this continuously changing time and work with teams to make sure their transition back to the office is as smooth as possible. Readers can look forward to a future blog post on how Ozmo is managing the newly adjusted work model and what converting to a hybrid work environment means for companies and their employees today.
Want to learn more about the perks of being an Ozmonaut? Check out our careers page for more information.