The truth of the matter is we all learn and absorb things in unique and different ways. Some of us prefer to listen to and absorb new information while others retain more by reading. Across Ozmo's diverse library of tech support content, we've done well to empower users that learn and understand concepts from a reading-learning style with robust written content that expertly describes solving tough device and app issues. In addition to that, our comprehensive interactive tutorials feature images with highlighting which does encompass some of these other visual learning types. And for support agents, we even provide an immersive virtual experience that enables them to move through a virtual device as though it was in their hand.
For visual learners however, there's an even better option than simply referring to pictures: video. Video is an amazing combination of both auditory and visual communication all happening at the same time - which means we're suddenly supporting a much broader audience of support seekers. With a generally strong ability as humans to perceive concepts visually, video as a learning medium can satiate demonstrating a concept rather than simply describing it. Recent studies suggest that around 90% of the information transmitted to the brain is visual. In addition, the brain can process visuals more than 60,000 times faster than text1. On top of that, with modern technology affording all of us with easy and convenient abilities to not only watch a video, but also to quickly pause or rewind - maybe even jump ahead - we can empower learners with more control to determine their own absorption pace.
Want to know more about self-serve video tutorials?
What are self-serve video tutorials?
At Ozmo, one of the forms of support content we supply our customers with is a step-by-step tutorial. Seeing how the world around us has become increasingly consumptive of video content - like Tik Tok and YouTube - and how many prefer to learn via those mediums, the need for Ozmo to supply video forms of our tutorials was obvious. With our latest product release, we'll be launching our new self-serve video tutorial offering alongside our extensive existing library of self-serve content.
With this additional format of our tech support content, not only will we be supplying how-to content in more learning styles to more individuals, Ozmo will also be empowering self support seekers with an additional choice in their support journey. As a team that's passionate about our users' experiences, choice is a top priority. Giving users the ability to decide how they'd prefer to consume our helpful content means they're even more likely to find the answer they're seeking, and understand it more effectively.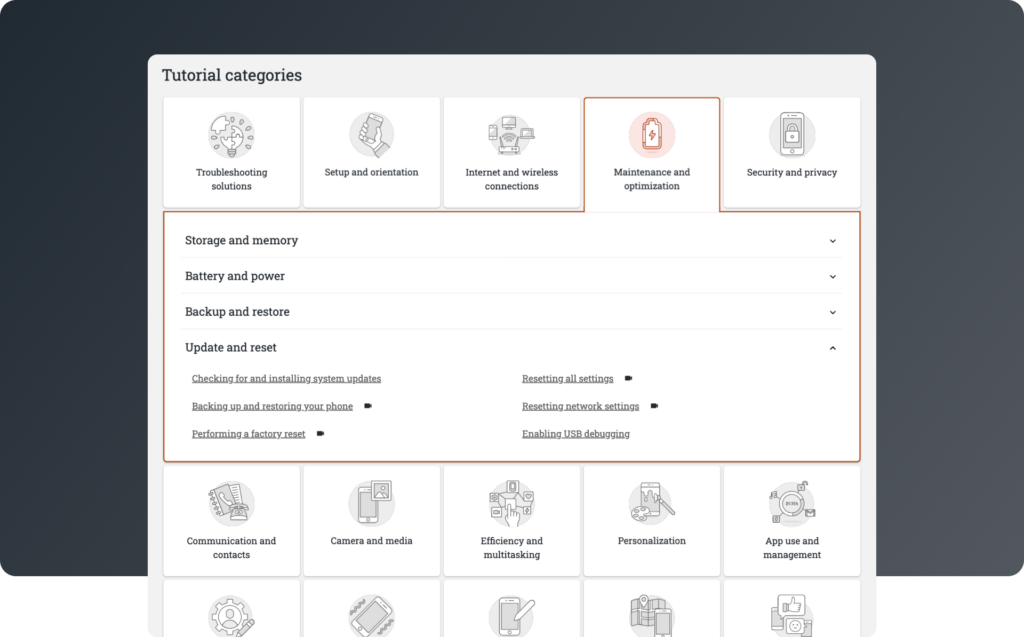 How do video tutorials work?
To dig into the details a bit more, our new videos will mirror many of our current and future tutorials. Users can now easily see and distinguish which tutorials offer a video formatted version and simply sit back and watch. While watching a video tutorial, a user is of course able to easily pause or skip ahead to control their learning experience.
Through a simple introduction of this offering within selected tutorials, now a customer seeking self-serve support can seamlessly shift between reading through helpful instructional steps or by pressing play and having the steps proceed on in a simple, comfortably-paced video. In turn, businesses today can promote digital adoption among their customers by encouraging them to review self-serve video tutorials to answer their device or app questions confidently and independently.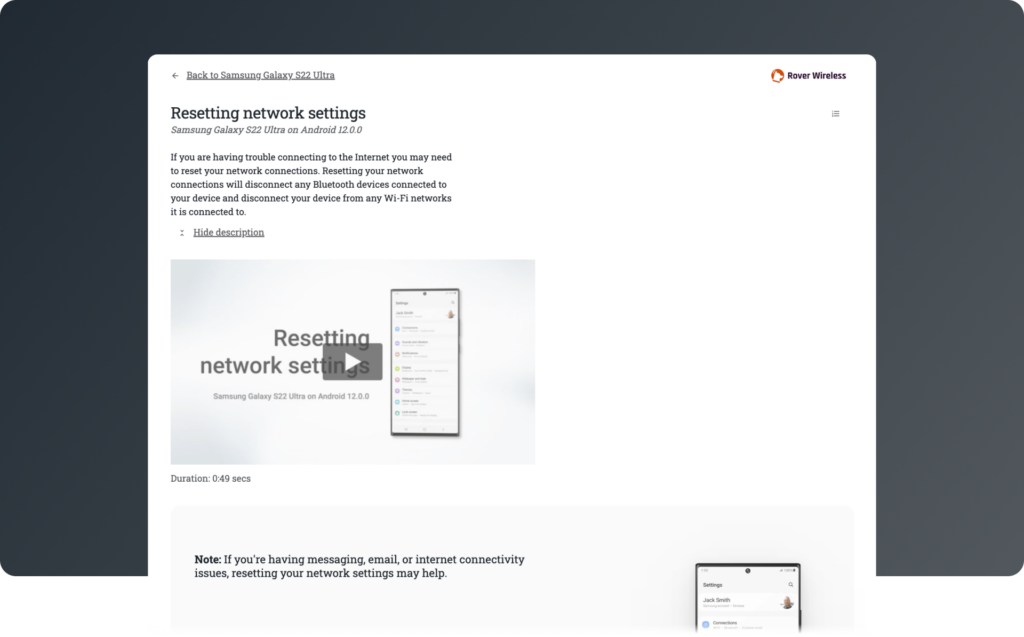 Through iterative testing and refinement, Ozmo's video tutorials feature a calmly-paced narration alongside supporting visuals of screen references of each step, with more expressive gestures highlighting what should be interacted with. These highlights are consistently timed with the narrated steps in a way that emboldens the action we're suggesting the user take on their device. The videos are generally short, lightweight and easy to watch. We've even provided context of how long each video is to support the decision to watch or read more.
Why self-serve video support is critical for businesses today
Video content is quickly becoming a mainstay in education as an excellent learning medium. With the inclusion of Ozmo's self-serve video tutorials, support audiences will have even more convenient, digestible solutions available. We know learning styles are as unique as we are as humans - and where previously, a customer seeking out video-based tech support might have found a less ideal or less specific solution somewhere other than a trusted support ecosystem, now they'll be able to rely on this natural extension of Ozmo's support library.
Advance your self-serve support with video tutorials
This new facet of Ozmo's support library will continue to grow and evolve, as we perpetually learn more and more about the very specific learning patterns that customers seek as they interact with our video tutorials. If you're looking to upgrade your team's self-serve resources and provide your customers with unmatched support, learn more about Ozmo's video tutorials here.